South Sudan peace talks in Khartoum extended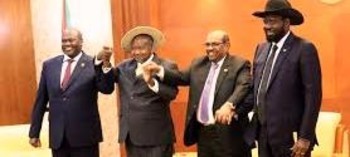 Negotiations in Khartoum aimed at ending South Sudan's devastating civil war will be extended until Thursday, Sudanese foreign minister announced on Sunday.
The talks, which began on June 25 in Khartoum, were initially expected to end on Monday and then moved to Kenya.
According to Ashrooq TV, Sudan's Minister of Foreign Affairs al-Dirdiri Mohamed Ahmed briefed foreign diplomats in Khartoum and said the South Sudanese peace talks have been extended until 12 July.
He pointed out that the South Sudan warring parties will continue the negotiations on the key pending issues in Khartoum.
The top Sudanese diplomat reiterated the commitment of Sudan and Uganda to work together for peace in South Sudan.
Al-Dirdiri urged the international community to support the ongoing talks under the umbrella of the East African regional bloc IGAD in order to achieve peace and stability in South Sudan.