South Sudan peace talks end with partial deal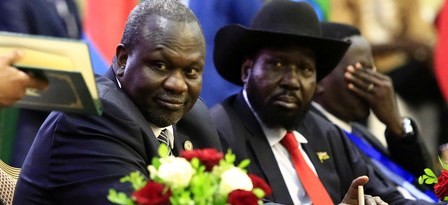 Talks in Sudan to revive South Sudan's peace pact and end the ongoing conflict broke up on Tuesday without a comprehensive deal, mediators said.
Sudan government as part of the East African regional bloc IGAD has been helping South Sudan's warring parties to agree on power sharing and security arrangements, key steps for reviving the failed 2015 peace deal.
The round of peace talks in Khartoum, which began in June, were seen as the best chance to end the country's civil war.
But despite some signs of progress, the negotiations were deadlocked but signed by the government and smallest opposition entities without the main opposition groups. The SPLM-IO group led by the country's main opposition leader Riek Machar and the opposition alliance led by Gabriel Changson rejected the deal.
South Sudanese foreign minister Al-Dirdiri Mohamed Ahmed said the third round of talks in Khartoum ended today." We are announcing the closing of the third round of talks that was referred to Khartoum by the IGAD summit," he said.
"There is nothing left to be discussed. We have exhausted all the matters referred to us," Al-Dirdiri said.
Al-Dirdiri, who is the chief mediator, pointed out that the signed peace document will be referred to the IGAD heads of state and government summit for adoption before the final signing of the deal.
He hoped that the Sudan People's Liberation Movement-In-Opposition (SPLM-) and the South Sudan Opposition Alliance (SSOA) will join the final peace deal.
South Sudan's Information Minister Michael Makuei said his team initialed the peace agreement this afternoon, while accusing the two opposition groups of obstructing peace in South Sudan.
"According to our evaluation, the agreement is successful. Those who have not signed will join the peace process later," he said.
Lam Akol Ajawin, a leading member of the South Sudan Opposition Alliance (SSOA), said they refused to initial the peace agreement because it failed to address their concerns. "But the government is insisting on imposing its opinions on important issues before they are discussed and agreed upon," Akol said.
The prominent South Sudanese politician urged the East African regional bloc IGAD to ensure that the key pending issues are agreed upon by the warring parties before the final signing of the peace pact.
Meanwhile, the deputy spokesman of the SPLM-IO Manawa Peter Gatkuoth said they declined to initial the agreement because the government refused to incorporate their concerns in the document today.
Edmund Yakani, a prominent South Sudanese civil society activist, called on the mediation team to engage the opposition for the sake of peace in South Sudan.
Yakani urged regional grouping IGAD to conduct shuttle diplomacy with the principals of the opposition groups to ensure that there are compromises for peace in the country, while calling on the warring parties to observe the signed ceasefire deal.