South Sudan peace talks could hit 'deadlock' over article 28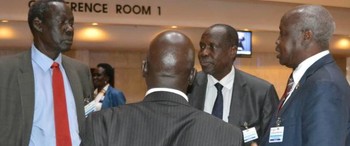 South Sudanese peace negotiations in Addis Ababa could hit a "deadlock" after parties disagreed over article 28 of the agreement on declaration of principles, which would be the basis of the talks.
Article 28 of the agreement on declaration of principle says IGAD should take all necessary measures including those decided by the IGAD heads of state and government in November 2014 against peace spoilers.
Multiple sources at the ongoing peace talks told Radio Tamazuj this morning that South Sudanese opposition groups wanted the article to be maintained in the agreement on declaration of principles, while the government delegation said the article should be delegated.
The sources also said the government delegation had refused to enter negotiations over article 12 which talks of the state of emergency in the country.
They pointed out that the government team said there was no any national state of emergency declared by President Kiir and that the state of emergency was declared after inter-communal fighting in Bahr el Ghazal region to deter cattle raiders and to stop revenge killings.
Meanwhile, the opposition groups demanded for the lifting of the state of emergency imposed by Kiir since December 2013.
But this matter was resolved by changing the language of the article to state of emergency shall be lifted prior to commencement of the transitional period, according to prominent civil society activist Edmund Yakani.
Yakani also urged the South Sudanese parties to compromise for the success of the peace process in the country.
South Sudanese parties are expected today to deliberate on the final review of article 28 of the declaration of principles, article 11 on Transitional National Legislative Assembly and the Council of States, article 12 on the judicial system during the transitional period and article 14 on institutions and mechanisms.