JUBA/NEW YORK -
26 Jun 2019
South Sudan peace 'frustratingly slow'– UN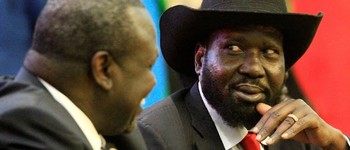 President Kiir (R) talks to opposition leader Riek Machar as they sign a ceasefire agreement in Khartoum, Sudan August 5, 2018. Image: REUTERS/Mohamed Nureldin Abdallah
The implementation of South Sudan's peace deal is frustratingly slow and many benchmarks are still to be met, a senior UN official said.
President Salva Kiir and opposition leaders failed to form a new government as stipulated in the deal by May 12. The formation of the government was extended by six months to November in order to implement key provisions such as creating a unified army and determining the number of states.
"More compromise is needed, particularly from the government which holds the much stronger position," said David Shearer, the head of the United Nations Mission in South Sudan (UNMISS).
Mr Shearer made the remarks while briefing the UN Security Council on the situation in South Sudan on Tuesday.
Shearer said the ceasefire deal has largely held.
"The drop in political violence - based on the trend of past years - has meant hundreds, if not thousands of people, are alive who otherwise would not be. Many displaced families have decided it is safe, and time, to return to their homes," he told the Council.
For his part, the permanent representative of South Sudan to the United Nations, Akuei Bona Malual admitted that the implementation of the peace agreement is facing challenges.
"Already some $2 million U.S. dollars has been spent towards food and cantonment preparation activities in Greater Upper Nile and Bahr el Ghazal. Challenges still exist, however," he said.
The peace implementation needs technical assistance, according to the South Sudanese diplomat.
Meanwhile Manawa Peter Gatkuoth, the deputy spokesman of the opposition SPLM-IO, expressed his group's disappointment over the slow progress in the implementation of the peace agreement.
"The agreement will collapse if there is no strong political will. Security arrangements are very slow and there are other issues that need to be addressed by the leaders," Manawa told Radio Tamazuj on Tuesday.
"It will be difficult to implement the pending tasks in the next five months if there is no political will. Honestly, the agreement is not progressing well due to lack of funds," he added.
Last month, South Sudan government pledged to provide $100 million to expedite the implementation of the peace agreement. However, it has not yet disbursed the funds for the implementation of the critical pending tasks in the peace deal.
The government, which failed to pay salaries of civil servants and soldiers for the last six months, said it plans to borrow $500 million to bridge the widening gap in its budget.
Oil-rich South Sudan is struggling to increase crude oil production, months after the the signing of the peace agreement last year. Currently it pumps 175,000 barrels per day of crude oil.