ADDIS ABABA -
13 May 2018
South Sudan peace consultations make little progress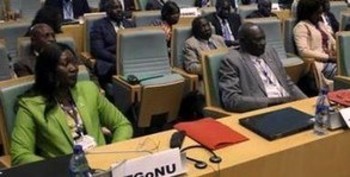 The intensive consultations on peace between the South Sudan warring parties under the auspices of the Intergovernmental Authority on Development (IGAD) has made a little progress in Addis Ababa, sources said.
The sources from the venue of the intensive interlinked consultations in Addis Ababa told Radio Tamazuj on Saturday night that the parties' viewpoints were still divergent but they agreed on some issues.
Points of agreement:
The ongoing civil war must end through the High Level Revitalization Forum
Sharing of responsibility (power sharing) as a principle for the formation of a new government
Recommitment to observe the Cessation of Hostilities Agreement signed on Dec. 21, 2017
Points of disagreement
No agreement reached on the formula to form a new government (The idea of having a lean or expanded government remains unresolved)
No clear decision on security arrangements
Riek Machar's participation in the upcoming government was a hot issue. SPLM-IO demanded Machar's participation in the government while the unity government rejected the demand. The opposition alliance says both President Salva Kiir and rebel leader Riek Machar should be excluded from the transitional government.
Observers say the government was distancing itself from tackling the root causes of the conflict while the opposition alliance was still pushing for it as one of its strong positions.
Mr Edmund Yakani, Executive Director of the non-profit Community Empowerment for Progress Organization (CEPO) commended the South Sudan warring parties for showing their commitment to bring an end to the conflict through the IGAD-revitalization forum.
"The statement issued by IGAD on the consultations was appreciated although a little progress was made during the Intensive Interlinked Consultations (IIC) in Addis Ababa on May 11, 12 and 13, 2018," he said.
"We call on the parties to seriously consider reaching a peace deal during the HLRF scheduled for May 17-21, 2018 in Ethiopia," he added.
The leading civil society activist pointed out that any failure to agree on the concrete way forward to bring an end to ongoing violence will cause more human suffering in the country.