South Sudan parties miss deadline to train unified forces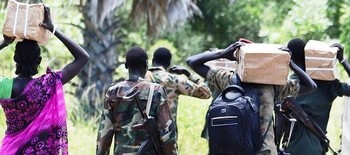 SPLA-IO soldiers carry boxes with forms delivered by JMCC members to register forces in Ayod County on September 24, 2019. (Photo: Radio Tamazuj)
South Sudan's army and armed opposition groups have missed a key deadline to train and deploy the necessary unified forces before 30 September.
In August, the parties to the revitalized peace deal agreed that at least 50% of the 83,000 necessary unified forces should be cantoned and barracked, trained and deployed before the end of September.
A face-to-face meeting between President Salva Kiir and opposition leader Riek Machar last month resolved to find solutions to pending issues holding up the formation of a transitional government proposed for 12 November.
Speaking to Radio Tamazuj on Monday, the parties to the peace deal confirmed that the training of the necessary unified forces has not yet started.
Lul Ruai Koang, spokesman for the government military SSPDF, said the first phase of training army trainers in Bahr el Ghazal region had been completed while arrangements are underway to train troop trainers in Upper Nile and Equatoria regions.
He further said about 500 trainers, who are expected to train around 21,000 troops in Bahr el Ghazal region, would graduate on Friday this week. "We have five training centers in Bahr el Ghazal, four in Wau state and one in Pantit of Lol State," Koang explained.
The army officer noted that preparations to train the trainers of the necessary unified forces in Upper Nile region are still underway, but he did not name the areas.
For his part, the head of the Joint Military Ceasefire Commission (JMCC) in Bahr el Ghazal region, Garang Ayii Akol said they were waiting for the final report of the registration process in order to begin training the necessary unified forces in the region.
He further said they expect training of the unified forces to be completed within a month or two.
Garang said as JMCC members, they seek to ensure the process of security arrangements related to the pre-transitional period progresses well.
Creating a unified army and determining the number of states and their boundaries remain the biggest challenges in the September 2018 peace deal.