South Sudan parties hold ceasefire workshop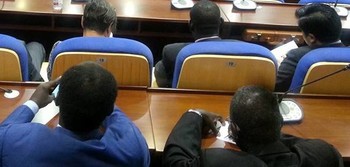 South Sudan's warring parties on Monday afternoon started a three-day workshop on ceasefire and transitional security arrangements in the Sudanese capital Khartoum.
This comes hours after the conflicting parties initialled documents on the implementation matrix.
Speaking at the opening session of the workshop, JMEC Deputy Chairman Ambassador Augostino Njoroge said the workshop demonstrates the commitment of the parties to bring peace to South Sudan.
"This three-day workshop is equally an important component for the confidence building and creating a common understanding on the permanent ceasefire and transitional security arrangement mechanism," he said.
He pointed out that effective security arrangements and coordination mechanisms are a cornerstone for the full implementation of the peace agreement.
The peace monitor called on the parties to silence the guns and ensure unimpeded humanitarian access across the country.
For his part, Tarig Abdel-Karim, deputy chair of the CTSAMM mechanism said that the workshop is a very important step for the implementation of the peace agreement.
He urged the warring parties to participate effectively in the workshop.
Meanwhile, South Sudanese civil society activist Edmund Yakani said that the three committees set up during discussions on the implementation matrix had already accomplished their task.
However, Yakani further said the warring parties reached a deadlock over constitutional procedures in the peace agreement." People did not agree on Chapter 6 which talks about the constitution making process. This point was referred to the IGAD Council of Ministers for further talks," Yakani said.
The activist confirmed that the ceasefire and transitional security arrangements workshop kicked off on Monday." We will conclude the ceasefire workshop on Wednesday," he said.