ADDIS ABABA -
10 May 2018
South Sudan parties begin peace consultations in Addis Ababa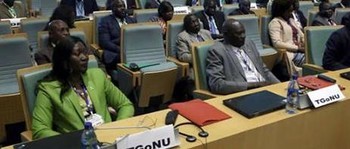 File photo: Anadolu Agency
The consultation process between the East African regional bloc IGAD and South Sudan parties kicked off in Addis Ababa this afternnon.
Multiple sources from Addis Ababa told Radio Tamazuj that the agenda contained all outstanding issues between the South Sudan parties, epecially the formation of the transitional government and security arrangements.
They pointed out that it will not be easy for the South Sudan parties to make compromises.
Edmund Yakani, Executive Director of the non-profit Community Empowernment for Progress Organization (CEPO), called on the parties to take the consultation phase as an opportunity of making genuine compromises for the sake of peace.
"The primary responsibility of bringing peace to South Sudan is in the hands of the conflicting parties," he said.
The leading activist urged South Sudan neighbours to comprmose for peace in the youngest nation.
"We are expecting the consultations to come out with practical proposals that make the next HLRF successful for the benfit of the people of South Sudan," he said.
The Inter-governmental Authority on Development last week invited key representatives of each of the South Sudan parties to go to Ethiopia for consultations.
The East African regional bloc decided to intensify its engagement with the parties with a view to identifying possible options for unlocking the stalemate during the next peace talks that will kick off on May 17.