ADDIS ABABA -
10 Feb 2018
South Sudan parties begin talks on pre-transitional period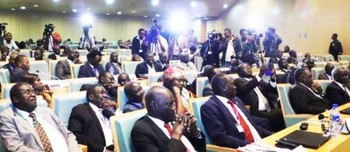 The South Sudan warring factions on Saturday morning resumed negotiations in the Ethiopian capital Addis Ababa.
The government delegation yesterday refused to sign an agreement on declaration of the principles which would be the basis of the talks, citing discontent about punitive provision in the document. The opposition groups strongly supported the provision and signed the document.
Article 28 in the document says punitive measures including those decided by the IGAD heads of state and government in November 2014 should be taken against peace spoilers.
Officials attending the ongoing peace talks told Radio Tamazuj that today's negotiations focused on Article 13 which provides for revitalization of pre-transitional period and national constitutional amendment mechanism.
Talks among stakeholders this morning was encouraging and positive, renowned South Sudanese civil society activist Edmund Yanaki said.
Peace talks between South Sudan government and opposition groups in Addis Ababa entered sixth day.
The parities signed a cessation of hostilities deal in December last year, but broke it just like the 2015 peace agreement.
The international community has recently warned of punitive measures against the parties obstructing peace. The Troika group of international partners also voiced its frustrations and warned South Sudan's warring factions for violating the latest ceasefire deal.