South Sudan parliament elects nine representatives to EALA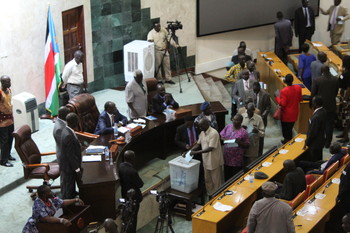 File photo: South Sudan MPs during voting. (Radio Tamazuj)
The race for the East African Legislative Assembly was concluded on Thursday night with nine members elected to represent South Sudan.
The Speaker of Parliament Anthony Lino Makana announced the nine winners out of the 29 candidates who contested.
The winners are Gabriel Alaak Garang secured 217 votes, Gabriel Garang Aher Arol got 172 votes and Thomas Tut Gatkek Deang garnered 152 votes. All are from the ruling SPLM party.
The others are independent candidate Mukulia Kennedy Ayason got 148 votes, independent candidate Kim Gai Ruot secured 129 votes, and SPLM-IO's Gideon Gatpan Thoar got 122 votes.
Three female candidates were elected unopposed on Wednesday. Those elected unopposed include SPLM's Ann Itto, SPLM's Gai Nhial Deng Nhial and independent candidate Wuda Jeremiah Odok.
284 of 400 MPs voted in today's elections with two invalid votes.
The nine candidates have been elected from a list of nominees presented to parliament by political parties and special interest groups to serve at the Arusha-based assembly for the next five years.