South Sudan opposition leaders meet with Sant'Egidio community in Rome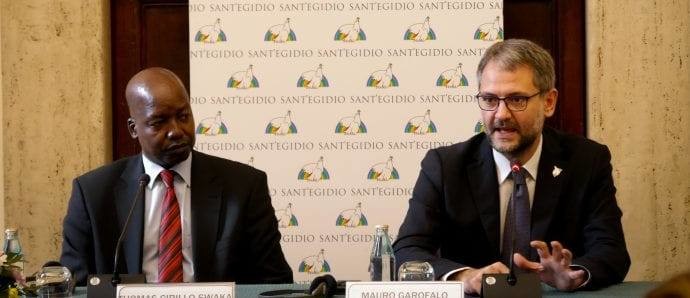 General Thomas Cirillo of the National Salvation Front and Mauro Garofolo speak to the press Nov. 20, 2019. (Credit: Photo Courtesy of Sant'Egidio.)
Leaders of South Sudan Opposition Movements Alliance (SSOMA), a coalition of holdout opposition groups, held a three-day meeting with the Sant'Egidio community in Rome, Italy.
Founded in 1968, the Community of Sant'Egidio is a lay Catholic association dedicated to social service provision.
During the meeting, conducted from November 18-29, SSOMA appealed to the community to urgently engage with regional and international partners to ensure that South Sudan's conflict is resolved through constructive and genuine dialogue.
In a statement extended to Radio Tamazuj on Wednesday, SSOMA leaders said they are thankful "for the continuous and outstanding empathy and affection shown to the suffering people of South Sudan" by both Pope Francis and the Archbishop of Canterbury, Justin Welby.
The opposition coalition commended the efforts exerted by the Community of Sant'Egidio to achieve a genuine and sustainable peace in South Sudan.
The group also welcomed the IGAD Council of Ministers resolution on 10th November, directing the IGAD special envoy to South Sudan to engage with the holdout opposition groups. It lauded the continued regional and international support aimed at achieving political stability in South Sudan.
The alliance was formed in the Netherlands on August 30, 2019 in response to what was described as the "violation" of the full implementation of the revitalized peace agreement by President Kiir's government.
The Real Sudan People's Liberation Movement (R-SPLM), National Salvation Front (NAS) and South Sudan United Front (SSUF) are members of the opposition movements alliance.
In July, the community hosted members of South Sudan's National Pre-Transitional Committee for a meeting aimed at discussing the implementation of the peace agreement.