South Sudan oil ministry launches open tender for petroleum audit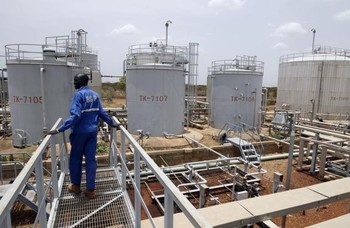 File photo: A worker walks at the power plant of an oil processing facility at an oilfield in Unity State. (REUTERS/Goran Tomasevic)
South Sudan's Petroleum Ministry has invited companies to bid on a public tender to perform an audit and produce a 2017 audit report on the country's oil industry.
According to a statement issued by the ministry on Friday, the move is part of government's commitment to ensure transparency and enhance efficiency in its petroleum sector.
It further said tender process opens immediately and closes on 14 July, with winners to be announced on 17 July.
"Objectives of the audit include completing an accurate assessment of oil, condensate and gas reserves and production; reporting on revenue and investment flows; and making recommendations on the technical, fiscal and regulatory issues faced by petroleum industry actors," partly reads the ministry's statement.
The ministry pointed out that the move to enhance efficiency and promote transparency in the hydrocarbons sector is viewed by the Ministry of Petroleum as the foundation for South Sudan's future prosperity.
The successful completion of the petroleum audit, it said, will be an important step for the country towards Extractive Industries Transparency Initiative (EITI) candidacy and membership.
South Sudan has relied on oil for all its income since its independence from Sudan in 2011.
File photo: A worker walks at the power plant of an oil processing facility at an oilfield in Unity State. (REUTERS/Goran Tomasevic)