South Sudan military leaders hold joint defence board meeting in Khartoum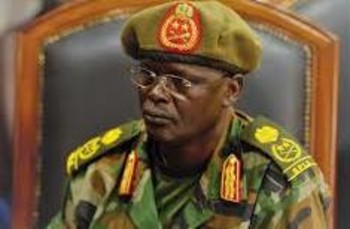 File photo: Gen. Gabriel Jok Riak
The top military officials of the signatories to the South Sudan peace deal held the first meeting of the Joint Defence Board (JDB) in the Sudanese capital, Khartoum on Sunday.
Under the peace accord, the JDB is formed at the level of Chiefs of Staff and Directors General of National Security Service, Police and all other organized forces. The mechanism is tasked with command and control over all forces during the pre-transitional period.
The meeting which was held at the Higher Academy for Strategic and Security Studies was attended by Sudan's army general Isam al-Din Mubarak and the IGAD Special Envoy for South Sudan Ismail Wais.
The semi-official Sudan Media Center (SMC) quoted South Sudan's army chief, Gen. Gabriel Jok Riak, as saying the JDB meeting discussed the timelines and regulations before to start the security arrangements process.
Riak further said another meeting would discuss the references to the security arrangements, pointing out that the meetings will continue for two days in Khartoum.