South Sudan media regulator bars media from covering Sudan protests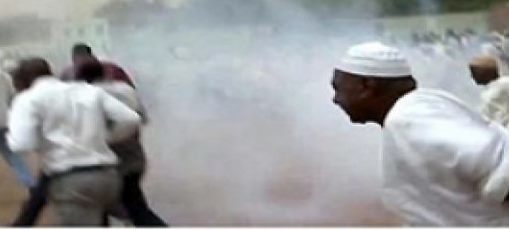 South Sudan's media regulator ordered media houses to refrain from covering the ongoing anti-government protests in Sudan.
Violent protests have rocked Khartoum and other cities since December 19, when unrest first broke out over a government decision to raise the price of bread.
Sapana Abuyi, Acting Director of the South Sudan Media Authority, said that the ongoing demonstrations in neighboring Sudan were internal issues.
"The ongoing protests in Khartoum are internal issues affecting a friendly nation, the media in South Sudan should not write or broadcast instigative statements and comments about it," Abuyi said in a statement on Monday.
This comes after a complaint by the Sudan embassy in Juba after Al-Wattan Arabic newspaper published three opinion articles against the government of President al-Bashir.
The acting ambassador of the Sudan embassy blamed the Juba-based newspaper for its editorial line hostile to the government of Sudan.
The Media Authority summoned the newspaper's editor-in-chief Michael Christopher to explain the reason for publishing articles critical of Sudan's government.
"The Media Authority warns Al-Watan Arabic Newspaper to stop with immediate effect writing anything on topics relating to the ongoing protests in Sudan, which is an internal political issue of a friendly neighboring country," read a letter signed by Sapana Abuyi on Monday.
Abuyi also ordered the newspaper to publish an apology to the Sudanese embassy in Juba within 72 hours from the date of the warning letter.
Michael Christopher, editor-in-chief of Al-Wattan newspaper, condemned the order by the South Sudan Media Authority.
Speaking to Radio Tamazuj this morning, Michael accused the media regulator of gagging South Sudan media houses over coverage of the ongoing political development in Sudan.
He pointed out that his newspaper was performing its rightful role of informing the public on matters affecting neighboring Sudan.
The South Sudanese journalist insisted that the media should be free from undue interference. He also refused to apologize to the Sudan embassy." I stand by my position because I was expressing my personal opinion," he said.
South Sudan gained independence from Sudan on 9 July 2011 as the outcome of a 2005 agreement that ended Africa's longest-running civil war.
In September last year, South Sudan's conflicting parties signed the final peace accord in the Ethiopian capital Addis Ababa.
The agreement was reached through peace talks brokered in Khartoum by the Sudanese government with a mandate by the East African bloc IGAD.