South Sudan marks AIDS day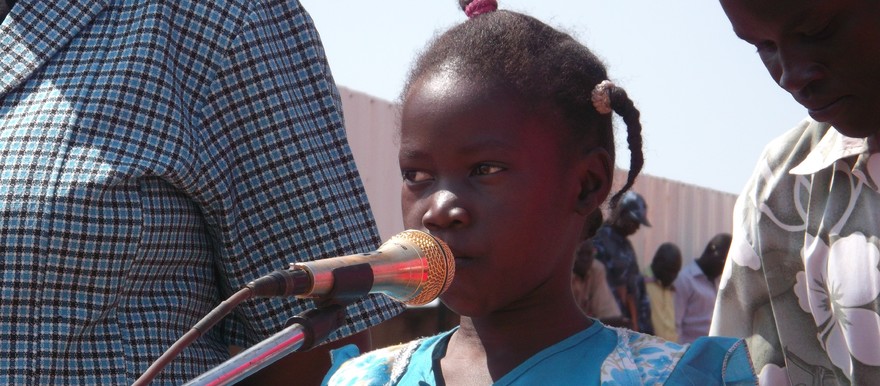 South Sudan marked AIDS day on 1 December and also declared the following Monday, today, a public holiday.
World AIDS day is dedicated every year on 1 December to raising awareness of AIDS, a disease that affects the body's immune system (its ability to defend itself).
AIDS is spread by the HIV virus through sexual intercourse or use of unclean needles at medical clinics or other places. The disease can also be spread from mother to child during pregnancy.
Radio Tamazuj covered Saturday's celebrations in Wau, Western Bahr el Ghazal, where civil society groups and international organizations gathered to hear various speeches.
Angelo Taban, the acting governor, urged the audience not to discriminate against people living with AIDS. He also affirmed the government's commitment to help AIDS patients.
He warned, however, of a potential catastrophe facing Western Bahr el Ghazal because many people do not participate in HIV/AIDS testing.
Rita Baptis, a youth infected with the disease, spoke on behalf of AIDS patients, complaining against obvious neglect by the authorities of the state toward those infected.
UNICEF South Sudan said in a press release on the occassion that the country has a 3 percent prevalence rate for HIV. The agency noted, however, that very few mothers get tested for HIV during their pregnancy and even fewer women access antenatal care hence increasing the chances of infecting their newborns.
"In order to achieve an AIDs free generation, the focus needs to be on prevention of mother to child transmission and this can only be achieved if mothers-to–be know their status and start early treatment," said UNICEF's Officer in-charge, Elizabeth Quaye.
The decision to declare Monday a public holiday came from Hellen Achiro Lotaro, undersecretary in the labour ministry. The circular came as a surprise to businesses and organizations because the holiday was not mentioned in the annual list of public holidays released by the ministry earlier this year.
Photo by Radio Tamazuj: A girl named Helen suffering from HIV/AIDS in Western Bahr el Ghazal addresses a crowd at Wau Stadium, 1 December 2012.