South Sudan launches school reopening across the country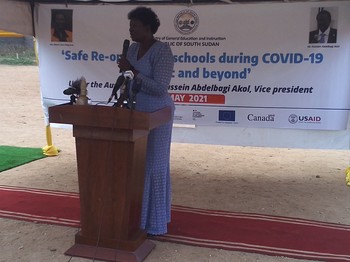 Minister of General Education and Instructions Awut Deng Achuil during the reopening of schools launch May 3rd. [Photo: Radio Tamazuj
South Sudan's Ministry of General Education and Instruction has announced the reopening of both secondary and primary schools country-wide in the national capital Juba on Monday.
The government says they want to ensure learning continues across the country despite the Covid-19 pandemic. It says the country now records a decline of three percent of cases daily.
Speaking during the launch of the event on Monday, the Minister of General Education and Instructions Awut Deng Achuil urged parents to encourage their children to go back to school.
"We are reopening today and we are reopening because we have children at home. So, my appeal will be to the parents across the entire country that all the children in this country must report back to school boys and girls together. This is our responsibility as parents to ensure that our children are encouraged and supported to go back to school," the minister stressed.
UNICEF country representative in South Sudan, Dr. Hamida Lasseko, also speaking at the same event reiterated UNICEF's commitment to continue supporting the education sector in South Sudan.
"UNICEF is committed to working with the ministry of education to ensure learning continues in the country. I can tell you that we will work day and night as we have done before to ensure that not only about the opening of schools but sustaining these children to stay in schools and supporting all areas which involve quality and quantity when it comes to education. Please do not stay at home anymore, come back to school," Lasseko said.
Two students from Juba Day Secondary School spoke to Radio Tamazuj at the launch.
"I am very happy that schools have opened and we have returned to school and now we are very happy because of this school opening," Jackline Kizito said.
"I appreciate the day today that they have opened our school and we are really happy. And what they said, they should continue with it and help our teachers so that we shall continue with our studies," Shantal Dominic said.
UNICEF has committed funds and support to the education ministry to distribute equipment allowing schools to adhere to the Covid-19 preventive measures. These include handwashing, stations, WASH supplies, thermometers, reusable masks, and menstrual hygiene management kits.
Schools were shut down in April of last year, as part of measures put in place by the government to contain the spread of Covid-19. However, candidate classes were allowed to sit their national examinations.