South Sudan judges threaten to go on strike over poor working conditions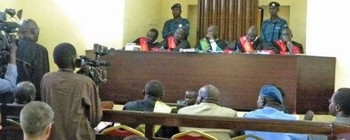 South Sudan judges said they will stage an open-ended strike starting from Monday to demand better working conditions, an increase in salaries and the reinstatement of leave benefits.
In a statement issued on Thursday, the South Sudanese judges called for the resignation of Chief Justice Chan Reec Madut for failing to meet their demands.
"The problem of the Judiciary lies on its leaderships as the judiciary is being run by a single person, that is, one man show Judiciary, which is the chief justice. He has become the head driver, accountant, fuel provider, if any, and no functioning directorates," ready a statement bearing the name of Khalid Mohamed Abdallah, the chairperson of justices and judges committee.
The judges also demanded for enactment of justices and judges pension law, provision of ID cards, appointment of more judges and promotion of the judges.
"Bearing in mind our constitutional and historical duties and responsibility, the general assembly voted unanimously to enter into open strike with effect from Monday 24 April 2017 until demands are fulfilled," said the statement.
"Finally, the rationale behind our demands is an order to deliver good service to people, address the backlog of cases and also strengthening of the independence of the Judiciary of the Republic of South Sudan," adds the statement.