South Sudan independence celebration cancelled due to economic crisis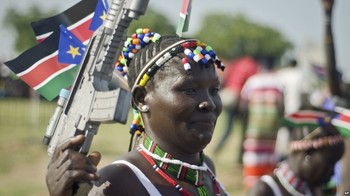 File photo: A South Sudanese woman wears the national flag and carries a mock gun as she attends an Independence Day ceremony in Juba, July 9, 2015. (VOA)
South Sudan's government has announced that it cancelled a plan to hold a celebration of the country's independence on the 9 July anniversary this year due to economic crisis.
South Sudan used to commemorate the day every year on 9 July when it gained its independence from Sudan in 2011. This will be the second time the world's youngest nation will fail to celebrate its independence due to shortage of money.
Speaking to journalists after the cabinet meeting on Friday, Michael Makuei, Minister of Information and Communications, said the government resolved not to celebrate the sixth anniversary of the independence due to lack of money.
However, the government spokesman said the day will be observed normally as a public holiday. "We are not celebrating, that is the message we should pass that we will observe the 9th July, because our situation does not require us to celebrate at a time when there are people who are in need of these funds which we could have been spending on the celebrations," said Makuei.
"The budget which was presented was high and as such the cabinet decided that instead of us using this money for celebrations, then we should use it for other things if that money is available," he added.
Makuei pointed out that the cabinet plans to transport South Sudanese citizens who are stranded at Juba Airport to their areas of origin. "It is agreed that if that money is available, if the ministry of finance can make it, then the best thing will be to transport those people who are stranded at the airport to find means of transporting them so that they go home at this time so that they can catch up with cultivation in their home areas," he said.
South Sudan is currently experiencing enormous challenges due to economic crisis caused by the ongoing civil war. The salaries for civil servants in the country have not been paid for at least four months.