'South Sudan has zero tolerance for homosexuality, same-sex marriage'-Makuei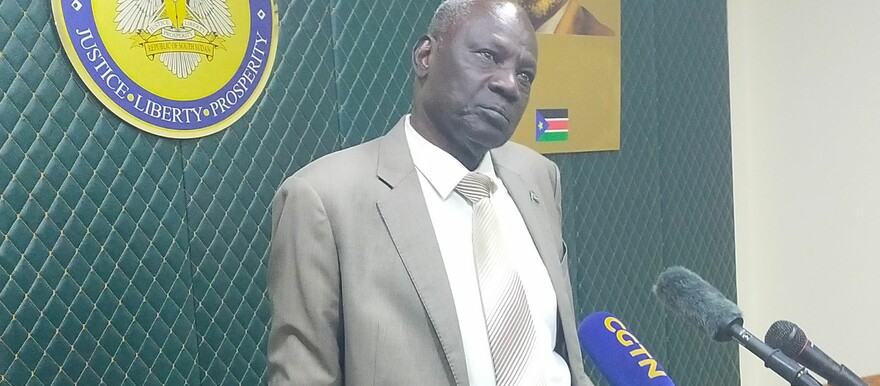 Information Minister Michael Makuei addressing the press on Friday. (Photo: Radio Tamazuj)
The National Minister of Information, Communication and Postal Service on Friday said that South Sudan will not tolerate homosexuality and same-sex marriage adding that it is punishable by law.
Michael Makuei Lueth`s comment follows the assertion by Pope Francis that homosexuality is not a sin.
During an exclusive interview with The Associated Press on Thursday, Pope Francis criticized laws that criminalize homosexuality as "unjust," saying God loves all his children just as they are and called on Catholic bishops who support the laws to welcome LGBTQ people into the church.
"Being homosexual isn't a crime," The Vicar of Christ said.
He acknowledged that Catholic bishops in some parts of the world support laws that criminalize homosexuality or discriminate against LGBTQ people, and he himself referred to the issue in terms of "sin." But he attributed such attitudes to cultural backgrounds and said bishops in particular need to undergo a process of change to recognize the dignity of everyone.
However, Minister Makuei, while addressing the media shortly after the cabinet meeting chaired by President Salva Kiir on Friday, said that if Pope Francis is coming to South Sudan to preach about same-sex marriage, they will say no.  
"If he (Pope Francis) is coming here and he tells us that marriage of the same sex, homosexuality is legal, we will say no," Makuei said. "But this is not what he is coming for."
The minister stressed that same-sex marriage is ungodly and that God create a man and a woman to multiply and fill the world.
"God was not mistaken. He created man and woman and he told them to marry one another and go and fill the world. Do same-sex partners give birth?" Makuei mused. "Our constitution is very clear and says marriage is between the opposite sex and any same-sex marriage is a crime, is a constitutional crime."
He said the main objective of the papal visit to South Sudan is to preach peace and ask the people to forgive one another and live in peace and harmony so that the country moves forward.
"He is coming to bless us so that we change our behaviors because at times we behave abnormally. So, he is coming here to pray for us so that peace prevails in South Sudan," Makuei said. "The coming of the Pope is a historical event and it has never happened in the world that the three churches came together except when President Kiir and Dr. Machar and the rest went to the Vatican."
"These three (The Pope, the Archbishop of Canterbury, Justin Portal Welby, and Rt Rev Dr. Iain Greenshields, the Moderator of the General Assembly of the Church of Scotland) were in Rome when our leaders went there and now they are coming together and it means there is something special about South Sudan," he added.
The Pope will is set to travel to the Democratic Republic of Congo (DRC) capital Kinshasa on 31 January before proceeding to South Sudan on 3 February where he will be joined by the Archbishop of Canterbury, Justin Portal Welby, and Rt Rev Dr. Iain Greenshields, the Moderator of the General Assembly of the Church of Scotland.