South Sudan: Gunfights within Bahr el Ghazal capital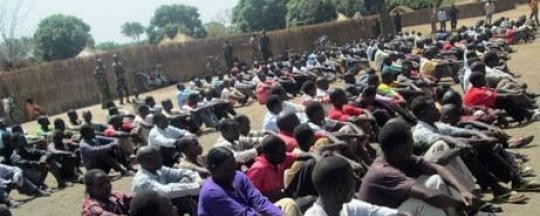 Fighting broke out last night within Wau, the capital city of Western Bahr al Ghazal in South Sudan. The cause of the shooting has not yet been confirmed, nor the number of casualties.
The fighting reportedly involved troops or trainees from SPLA who were seeking to reach UNMISS base in Wau for sanctuary, according to a journalist in Wau.
It is also reported that many Wau residents arrived at the UNMISS camp after leaving their homes out of fear for their own safety. Further information is not yet available.
Mapel clashes
An unknown numbers of troops or trainees ran away from Mapel base on Friday – whether deliberately or out of fear – after shooting at the base. Located in Jur River County, bordering Wau County, Mapel is one of the largest army bases in the country and the headquarters of Division 5.
The situation is potentially explosive because the split at Mapel was reported to have taken place along ethnic lines.
Next to the national capital and the Upper Nile region capital, Wau is considered one of the three largest cities in the country, and was the only one not to have seen fighting since December.
Historically the capital of the greater Bahr el Ghazal region, it serves as a nexus of trade among different regions – Darfur, Bahr al Ghazal, and Equatoria – and sits at or near the tribal boundary between the Dinka and Fertit peoples.
Photo: New recruits listen to speeches by officers and politicians at Basilia Payam, Western Bahr al Ghazal, 14 March 2014 (Gurtong)
Related coverage:
Fighting at South Sudan's Mapel army base (25 Apr.)
Education minister in Wau says teachers joining army (25 March)
CORRECTION, 15:00, 27 April 2014:
As it originally appeared, this article stated that the fighting in Wau involved troops from Mapel. This has not been confirmed.
It does appear that the two incidents are linked, however, in that the killings in Mapel raised tensions among troops in Wau.
UPDATE, 15:20, 27 April 2014:
A source in Wau states that two platoons of soldiers in Wau, estimated at 30-45 soldiers, have run away, reportedly toward the west.
Separately, a military source identified the leader of the runaway troops as a Nuer brigadier, without identifying him by name.
Governor Rizig Zachariah is quoted as issuing orders not to kill the defected soldiers but to surround them and allow them to surrender.
It is feared, however, that the defected soldiers, described as ethnic Nuers, could clash with residents of the Jur territory into which they escaped.
Separately, there are reports that several hundreds of Nuer escaped from Mapel training camp. The number killed in Mapel is estimated to be at least 13, with other sources putting the number higher.