South Sudan government says Telar's resignation unofficial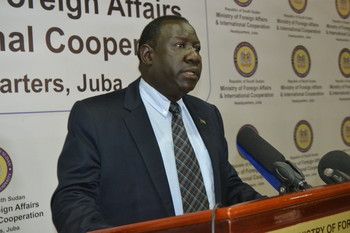 File photo: Bak Valentino Akol
South Sudan's Ministry of Foreign Affairs on Friday said it has not received an official resignation letter from its ambassador to Russia, Telar Ring Deng.
Ambassador Bak Valentino Akol Wol, undersecretary of foreign affairs ministry in Juba said the information they have received is from social media and not the official channel of communication.
"Yes, we heard that he has resigned, I am yet to see his official letter of resignation because what we have seen is his resignation through Facebook, on the social media which is rather unfortunate because that is not how people resign," he added.
Valentino said Ring's resignation is in response to an official communication to him requesting him to report to the headquarters.
"I learnt of this yesterday evening but what people don't know is that our government through the ministry of foreign affairs wrote to him yesterday morning asking him to come back to Juba for consultations and because we want to talk to him and the matter to be discussed was very urgent, we told him to come to Juba within 72 hours," he explained.
The official further said he is disappointed that the ambassador could not heed to the call but insisted it is his personal decision.
Speaking to Radio Tamazuj on Friday, Ambassador Ring confirmed that he wrote the resignation but it has no relation with the letter to him from the ministry of foreign affairs.
Ring said, "I want to be a civilian like everyone else in South Sudan. I want to concentrate at the problems facing my people, as well as peace efforts. I will not be in the talks but I will want to put some efforts in the issues that will be discussed in Addis Ababa. In one's life there is a time one works with the government and there is also a time one can leave to work on other things, and that does not mean one has deserted the government. Serving the country can be in many different ways not just by being in the government."
The government official said being summoned to the headquarters is a normal procedure in the government and anyone can be summoned.
"I wrote my resignation letter before I received the ministry letter calling me to the headquarters. This is a coincidence. And I am not a military man for them to ask me to appear before 72 hours. I will definitely go to Juba but not in 72 hours."
Ring who is also one of the longest servicing official in Kiir's administration refuted allegations against him that his resignation is linked to his rebelling against the government saying those are baseless and meant to tarnish his name.