South Sudan government exempts aid agencies from registration fees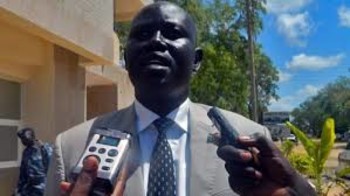 File photo: deputy chairperson of the government's relief agency, Paul Dhel Gum
South Sudan's government has temperately waived registration fees for national and international aid groups operating in the war-torn nation.
The new order will require NGOs to pay administrative and service fees only at the time of renewal of registration. International NGOs will pay $1,000 for administrative and service fees while national NGOs will pay 200 USD. International NGOs have been paying $3,500 annually while national pay NGOs $500.
"Due to current humanitarian situation and huge burden of funding of many humanitarian projects in the country, the President of the Republic of South Sudan H. E Gen. Salva Kiir Mayardit directed the Relief and Rehabilitation to waive registration fees for 2018 for all NGOs," said Deng Tong Kenjok, registrar of NGOs at the government's Relief and Rehabilitation Commission.
Paul Dhel Gum, deputy chairperson of the Relief and Rehabilitation Commission, said the government decided to exempt NGOs from registration fees due to the current humanitarian situation in the county on Wednesday.
Edmund Yakani, executive director of the Community Empowerment for Progress Organization (CEPO), commended the decision take by the government, saying it could result into establishment of new aid agencies in the country.
South Sudan is in dire need of humanitarian assistance due to the ongoing civil war.