South Sudan government admits difficulty in paying civil servants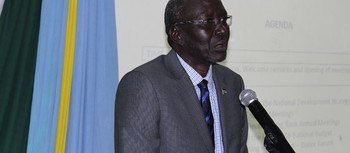 File photo: Finance minister Stephen Dhieu Dau
South Sudan government on Thursday admitted its failure since three months to pay salaries of its civil servants including diplomats abroad.
Speaking to reporters after a workshop with international partners on Thursday, Finance Minister Stephen Dhieu Dau said civil servants have not been paid for three months because of economic troubles stemming from the ongoing civil war.
However, the minister said the ministry of finance is making arrangements to pay one month salary for all government employees. "I would like to announce that we are working now paying one month salary, it will be paid within three to four days," he said.
"The salaries delayed because we have challenges in the country that's why we have arrears in the national government, the state governments and our embassies abroad," he added.
The minister revealed that he is working on financial reforms requested by President Salva Kiir aimed at reducing the inflation rate in the country.
Japan's Ambassador to South Sudan, Kiya Masahiko expressed his frustrations about mismanagement of public funds in the country, calling on the government to come up with clear fiscal policies to enhance accountability.