South Sudan foes to sign final peace deal next week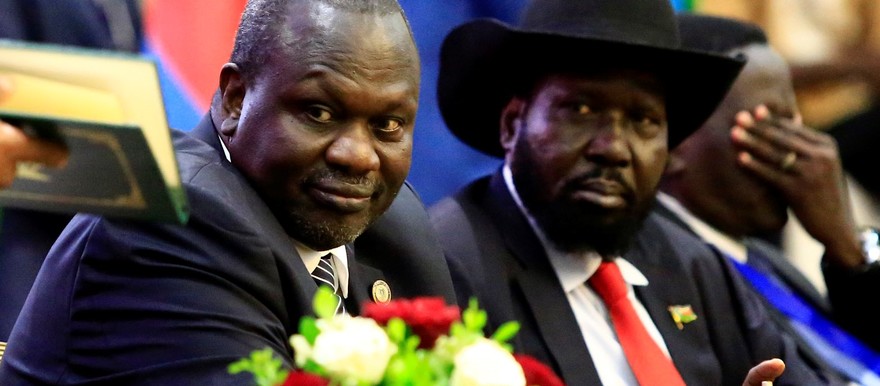 South Sudan's conflicting parties will sign a final peace deal in the Ethiopian capital Addis Ababa next week, government and opposition officials confirmed.
"We will go to Addis Ababa for the IGAD Council of Ministers meeting on 11 September and the IGAD summit will take place next Thursday," South Sudan's Cabinet Minister Martin Elia Lomuro told Radio Tamazuj on Friday.
"The parties have concluded the implementation matrix successfully and we will go to Addis Ababa for the summit," he noted.
For his part, a leading member of the Sudan People's Liberation Movement-In-Opposition (SPLM-IO) said the warring parties are scheduled to sign the final peace deal in Addis Ababa next week.
"The signing of the final peace agreement is scheduled to take between 12 and 13 September," deputy spokesman of the SPLM-IO movement Manawa Peter said.
"The parties are expected to travel for the IGAD Council of Ministers meeting in Addis where the reservations will be discussed. The meeting is scheduled to take place on 12 September, so this is the plan announced by the mediator," he added.
The top opposition official further said his group accepts the plan unveiled by the African bloc IGAD."But we want the reservations we had expressed to be discussed. If our reservations are not addressed, we will not be part of the final peace agreement," he stressed.
Meanwhile, Kornelio Kon, leader of the national alliance of political parties said the peace document is ready for signing, downplaying the reservations expressed by the warring parties.
"All the parties initialed the peace agreement and it means that the agreement is now ready for implementation. The reservations expressed by the opposition and the government are irrelevant because our people need peace," Kon said.
The party official noted that IGAD leaders will soon give their blessing to the peace accord aimed at formally ending the devastating civil war in South Sudan.
Edmund Yakani, Executive Director of the Community Empowerment for Progress Organization (CEPO), said peace is desperately needed by the people of South Sudan. The South Sudanese civil society activist urged the African bloc IGAD to address the reservations expressed by the parties.
"Let 12 September be a historical day for South Sudan. We are calling upon the conflicting parties to make final effective compromises for peace in South Sudan," Yakani said.