South Sudan extends oil exploration deals with four oil companies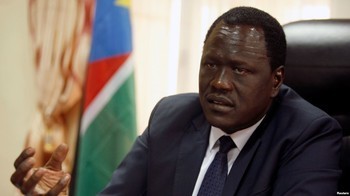 Photo: Minister of Petroleum of the Republic of South Sudan,Ambassador Ezekiel Lol Gatkuoth (Reuters)
South Sudan's Petroleum ministry on Monday signed an agreement extending oil exploration and Production Sharing Agreements with four oil companies operating in the country.
The Ministry extended the contracts for South Sudan's Nile Petroleum Company (Nilepet), China National Petroleum Corporation (CNPC), India's Oil and Natural Gas Corporation (ONGC Videsh) and Malaysia's Petronas in Blocks 1, 2 and 4 for the next 6 years.
Speaking on Monday Ezekiel Lol Gatkuoth the Minister of Petroleum said the agreement has taken into the account environmental concerns and the need to build infrastructure in the oil production areas.
"Well, we have just signed the extension of block 1, 2 and 4. Basically, the extension of the exploration Production Sharing Agreement and transitional agreement which is the law governing the oil industry between the ministries of petroleum and partners," he said.
"In the agreement, we have extended block 1, 2 and 4 for six years and eight months. They will continue operating there," Lol added.
The minister said the agreement also discusses the total fees to be paid to Sudan. He said they have agreed with the foreign oil companies to jointly pay transit fees to Sudan from the oil proceeds.
Datuk Mohd Anuar Taib, CEO of PETRONAS said his company has been operating in the oil sector for many years and will work closely with the South Sudanese Ministry for the development of the country.
"From PETRONAS prospective, we are very thankful for the leadership of the minister in making sure the industry is recovered," Anuar said.
Nilepet Managing Director Dr. Chol Deng Abel said increased oil production will help the government to develop infrastructure in the country, stressing that environmental concerns have been included in the new agreement.