South Sudan embassy says Kenya govt has right to issue travel advisory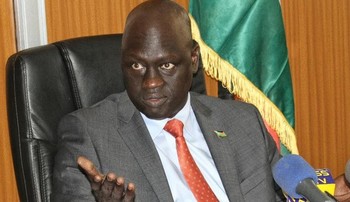 South Sudan's Ambassador to Kenya Chol Ajongo
South Sudan's Ambassador to Kenya said the government of Kenya has the right to issue a travel advisory for its citizens living in and travelling to South Sudan over security concerns.
But Ambassador Chol Ajongo told Radio Tamazuj on Thursday that the Kenyan travel advisory that came a day after two Kenyan pilots detained in Akobo had been released, was not accurate.
The South Sudanese diplomat argued that the government of South Sudan is controlling most parts of the areas mentioned in the travel advisory.
Ajongo said, "The statement doesn't portray the truth but we do respect the good relationship between South Sudan and the Kenyan government. It is their duty to warn their citizens to avoid harm."
He urged South Sudanese residing in Kenya to always have legal documents and respect Kenyan laws. "In case of any problems, you should contact the embassy," he said.
On Wednesday, Kenya issued a travel advisory warning its citizens living and working in South Sudan not to travel to parts of Greater Upper Nile region, the oil-rich region, Bieh, Latjor, Akobo, Jonglei, Northern Liech states, parts of Maiwut, Eastern Nile and Boma states and Yei River State.