South Sudan downplays significance of arms embargo imposed by United States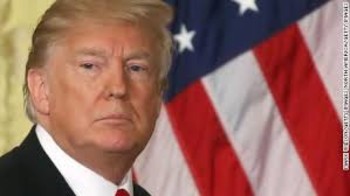 File photo: US President Donald Trump
South Sudan government downplayed the efficacy of the arms embargo imposed by the Trump administration on Friday.
"We have never bought any gun from America since 2005. If Americans want to restrict the export of weapons is up to them," Gordon Buay Malek, South Sudan's deputy ambassador to the United States told Radio Tamazuj today.
"The government of South Sudan does not want to talk about the arms embargo because it is insignificant," he added.
Mawien Makol, the official spokesman of South Sudan's Ministry of Foreign Affairs, said his government respects the decision taken by the United Nations to impose an arms embargo on South Sudan.
"The arms embargo is not a solution to the ongoing war. We have been saying that sanctions are not a solution to the conflict," he said.
The United States on Friday announced arms embargo on South Sudan and urged the UN Security Council to enforce a global arms ban on the world's youngest nation.