JUBA/NAIROBI -
29 Aug 2018
South Sudan dismayed by arrests of South Sudanese in Kenya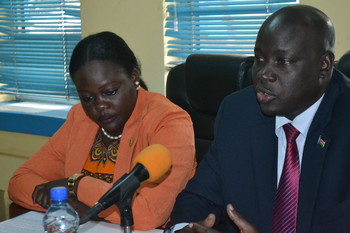 South Sudan minister of interior says they regret what is happening to South Sudanese citizens living in Kenya, adding that the government is working with Kenyan authorities to resolve the matter.
Last week Kenya launched a crackdown against illegal immigrants working and living in Kenya without proper documents.
South Sudanese ambassador to Kenya, Chol Ajongo confirmed to Radio Tamazuj on Tuesday that over 200 South Sudanese had been arrested in different parts of Kenya.
Minister Michael Chiangjiek told the press today in Juba that they have received reports of ill-treatment of South Sudanese during the crackdown.
"In the last four days, there are people arrested by Kenyan authorities including women, children, even those with terminal illnesses. We regret the way South Sudanese are treated by the Kenyan police because we are members of the East African community and we should not treat each other this way," he said.
Chiangjiek added, "They are expected to ask for the resident permits and work permits but they have overstepped their mandate. So we want to say that we are in communication with Kenyan authorities to resolve the issue."
The minister further pledged that all the Kenyan nationals working and living in South Sudan should not fear, saying such treatment will not be extended to them.
"We also want to assure Kenyan brothers in South Sudan that they should continue with their work normally because we are one people," he added.
Speaking to Radio Tamazuj today, Ambassador Ajongo said more people were released last evening and today after interventions by the embassy. He said 161 people were released in Bungoma and 16 in Nakuru.
Ajongo assured South Sudanese that the embassy and Kenyan authorities are working together to release those still in detention.
South Sudan's human rights group, the Centre for Peace and Justice (CPJ) Executive Director Tito Anthony in a statement extended to Radio Tamazuj condemned the arrests of South Sudanese in Kenya and called for the immediate and unconditional release of those in detention.