South Sudan delegates travel to Ethiopia ahead of IGAD summit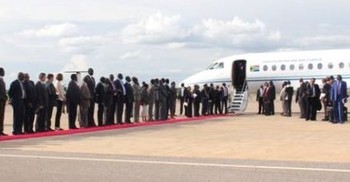 All South Sudanese delegates on Tuesday morning left Khartoum for Addis Ababa to attend IGAD meetings on ending the conflict in the country.
IGAD leaders are scheduled to hold a summit on South Sudan to address sticky issues in the peace deal initialed in Khartoum.
The government of Sudan had assured South Sudan parties that it would table their concerns at the summit in Addis Ababa before the final signing of the peace agreement.
Edmund Yakani, the executive director of the Community Empowerment for Progress Organization (CEPO), urged the region to make effective collective decisions on the reservations expressed by South Sudan's warring parties.
The African bloc IGAD announced that the 33rd Extraordinary Summit of Heads of State and Government will be held on 12 September in Addis Ababa.