South Sudan crisis: A guide for confused observers (II)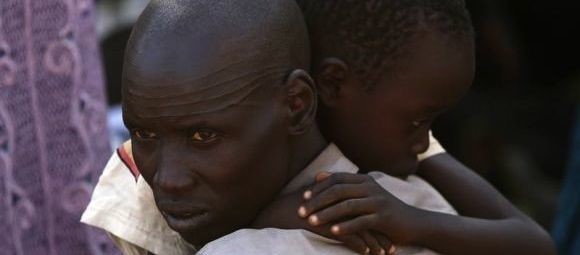 Radio Tamazuj is an independent cross-border radio project covering the conflict areas of Sudan and South Sudan. In this second part of a guide for confused observers, Radio Director Hildebrand Bijleveld tries to answer questions about the conflict now still spreading across South Sudan.
Part I discussed whether it was an ethnic conflict, whether there had been a coup attempt, and whether UN peacekeepers could do anything to stop the violence, among other matters. Here a number of additional basic and honest questions are addressed.
1. What's the difference between the Nuer and the Dinka?
Dinka and Nuer are both Nilotic tribes, and they are similar in terms of language, culture and livelihoods. Since the Juba Declaration of 2006, a landmark moment in terms of tribal reconciliation, men from both tribes have been serving side-by-side in the integrated army, police, prisons and wildlife services.
Some units, however, were less integrated than others, and events of the last week have fractured many previously integrated units along tribal lines or prompted defections. The break-up of the organised forces in some areas has been prevented by strong commanders or mediating officers from other tribes, but overall the trend has been toward tribalisation.
Overall the Dinka outnumber the Nuer in South Sudan, however, in the contested area of Greater Upper Nile (Unity, Jonglei and Upper Nile), the Nuer are in the majority. As a potential fighting force there they are considerably larger than the Dinka, even if they don't have access to the same military hardware. And their real strength lies among the irregular forces, which they call 'youth' or 'white army.' Thousands of these young Nuer overran the UN compound in Akobo killing two peacekeepers and dozens of Dinka seeking refuge.
2. Is Riek Machar the leader of the Nuer?
Effectively yes, but that does not mean that he has direct control of the disparate forces, including Peter Gadet, and particularly the white army. He is their top tribal and political leader at this stage in terms of prominence, but not by virtue of any office. He is also wearing the stick of the Nuer prophet, giving him high authority, though it is contested whether he should be allowed to do so. For that reason Salva Kiir called him a 'prophet of doom.'
3. Who is the military leader of the Nuer?
There is no overall military leader. The current military leaders are mostly defected generals from the SPLA (especially the 4th and 8th Divisions). They are not related to each other by any hierarchy of command and presumably have no shared strategy.
4. Are there also Nuers who rally behind Kiir?
Yes, there are many in the government and many have not broken with him during the crisis. The key people include Health Minister Riek Gai, Foreign Minister Benjamin Marial, and Army Chief of Staff James Hoth.
5. Is the Nuer general Peter Gadet a real danger for Kiir?
He is indeed a real danger. He holds sway over much of the country's largest state, Jonglei, and has captured its capital Bor, which lies within striking distance of Juba. SPLA has rushed reinforcements from different regions, in particular Bahr al Ghazal, not only to attempt to retake Bor but also to ensure that Juba is defended against a potential attack. However, rumours of the approach of an attacking force on the national capital at this time remain unsubstantiated. Yet even if Gadet is unable to attack the capital, his presence in Jonglei makes it difficult if not impossible for the government in Juba to maintain secure road and river connections to Upper Nile State, cutting off loyal forces there and endangering control over the oil fields in that state.
6. Could there be a repeat of the 1991 Bor Massacre?
That is actually the biggest nightmare scenario. Riek Machar was implicated in the 1991 Bor Massacre in which thousands of Dinkas were killed by his troops and allies. There is now a real danger of a mass killing even larger than the one of 1991. Clearly many Bor Dinka fear it and are fleeing the state or seeking refuge in the UN compound in Bor and across the river in Awerial.
For many Nuer fighters, ethnic hatred is deep-rooted, so Riek Machar will not necessarily be able to control their desire for revenge even if he reconciles with Salva Kiir. They may have heard and may believe (whether it is true or not) that hundreds of Nuers were killed in Juba in the week of December 15th, and this will not easily be forgotten. The longer the fighting goes on the more difficult it is to end it.
The fact that there hasn't been a massacre reported to date suggests that Gadet has been able thus far to keep his forces more or less in line. On the other hand, both sides are gearing up for a major battle, during which civilians could also be targeted. A Christmas ceasefire, if honoured, would allow Kiir more time to move up his troops and Gadet time to call in tribal militias from elsewhere in the state, whom he will not be able to control even if they fight alongside him.
7. Are there old allegiances and rivalries now coming back into play?
Certainly it's relevant to look at the history, but at this point there also seem to be current allies who were enemies in the past, and current enemies were allies in the past. Kiir and Bashir, erstwhile rivals both as commanders and heads of state, now have a shared interest in protecting the oilfields. Machar and Pag'an Amum, who belonged to opposing SPLA factions, now regarded as two close allies in the opposition. The rule is that the enemy of my enemy is my friend, and allegiances are liable to change.
8. Is this a never-ending crisis?
It is questionable now whether a solution is still in the hands of Machar and Kiir. There are too many political and ethnic dimensions to the crisis that are well beyond their control, and neither of them will any longer be able to unite the country whether by force or otherwise. The current efforts by Kiir and Machar to achieve a military solution will only result in a national catastrophe without a clear victor. As to the political negotiations, they lack weight and might indeed even prolong or paper over deep problems that will just resurface again. A short-term reconciliation alone would remain patchwork and volatile.
There may be one course of action that will prevent the country from sliding into civil war. A rapid solution would entail an international mandate to exercise not only developmental but also strong governmental and legislative powers, as well as robust military leverage, headed by a High Representative of the international community, as was done in Bosnia Herzegovina. This is not a job for the current UN leadership in South Sudan with their humanitarian aid focus. A power broker with a personality like the deceased Richard Holbrooke, a Clinton envoy who earned the nickname 'Raging Bull' for his work during the Balkan wars, would have been a more culturally appropriate interlocutor with both Dinka and Nuer. Unbiased and all-out disarmament carried out by the international coalition would be the foundation for further trust-building.
9. Will there be Christmas in South Sudan?
It will be a gloomy Christmas for South Sudan. For the two rivals, only one will be possibly visiting church – Salva Kiir used to attend the Catholic Cathedral in Kator, while Riek Machar, a Presbyterian protestant, will be in hiding or on the run. Multitudes of South Sudanese Christians, on the other hand, will be holding their observances in the midst of much grief and fear. They may be reassured by usual Christmas readings of the first Noël: "The light shines in the darkness, and the darkness has not overcome it." (John 1:5).
See also: South Sudan crisis: A guide for confused observers (I), December 19, 2013
For more background on the conflict by an author with deep knowledge of the Nuer in particular read: The Fate of Sudan: The Origins and Consequences of a Flawed Peace Process, by John Young.(ISBN 9781780323251)
Photo: An internally displaced man holds his son inside a United Nations Mission in South Sudan (UNMISS) compound in Juba December 19, 2013. (Reuters/Goran Tomasevic)