South Sudan court sentences Biar and Kerbino to jail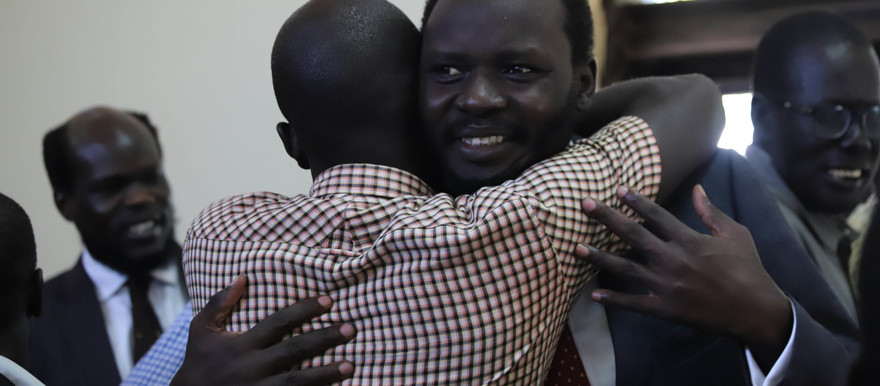 A South Sudanese court on Tuesday sentenced prominent activist Peter Biar Ajak and businessman Kerbino Wol to jail terms over accusations that they threatened the national security of the state.
Mr Biar was detained in July 2018, while Kerbino Agok Wol has been jailed since April 2018.
Biar's lawyer Philip Anyang Ngong told Radio Tamazuj that Judge Sumaya Mohamed sentenced his client to two years in prison on charges of inciting violence and disturbing the peace over interviews he gave to media during a stand-off between inmates and guards at the National Security Service (NSS) headquarters on October 7, 2018.
He further said Mr Biar was charged under articles 48-80 of the penal code. The lawyer said his client was innocent of all charges.
"Peter Biar was just exercising his constitutional right of freedom of expression," he said.
Anyang pointed out that they would appeal Biar's conviction, saying a fair trial was not accorded to his client.
Ajak Mayol Bior, lawyer for one of the other convicts, businessman Kerbino Wol, said his client was found guilty by the court.
Ajak further said Kerbino was sentenced to 15 years in prison, following his detention for more than a year in Juba.
He explained that Kerbino was charged under article 57 of the National Security Act and articles 67-80-72-79 of the penal code.
Ajak pointed out that the charges leveled against Kerbino relate to terrorism, insurgency and spying. "The other charges are related to public nuisance," he said.
The lawyer has insisted that Mr Kerbino is innocent. Ajak said they would appeal, saying he was dissatisfied with the way the proceedings and trial were conducted.
The lawyer noted that the convicts would be transferred to Juba Central Prison.
Five other accused were sentenced to five years each in jail.
All jail terms start from the date of detention.