South Sudan, China presidents discuss bilateral ties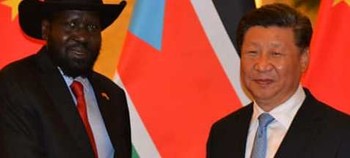 Photo credit: South Sudan presidential press unit
The presidents of South Sudan and China in a meeting in Beijing, China on Friday discussed ways to promote bilateral relations.
South Sudan's president Salva kiir is in China to attend the Forum on China–Africa Cooperation (FOCAC) Summit to be held next week. The 2018 Summit seek to bolster ties between China and the African continent.
President Kiir is accompanied by a high-ranking delegation, including Foreign Minister Nhial Deng Nhial and Finance Minister Salvatore Garang.
According to a statement issued by President Kiir's press office this afternoon, the two leaders discussed ways to promote bilateral relations between South Sudan and China to a strategic level.
President Salva Kiir, the statement said, has extended an invitation to China's President Xi Jinping to visit South Sudan next year.
It further said the two countries signed agreements on financial cooperation and bilateral relations.