South Sudan, China enter into $169 million road project deal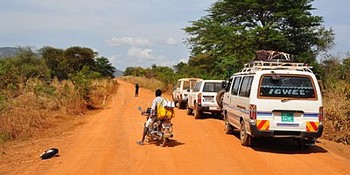 South Sudan government on Wednesday signed a deal with China to construct a highway to link the country to East African region.
The signing ceremony was witnessed by South Sudan's Vice President James Wani Igga and Chinese Ambassador to Juba He Xiandong. China's Export-Import (EXIM) Banka gave a loan of 169 million US dollars to construct a road linking South Sudan to neighboring Kenya.
South Sudan's Petroleum Minister Ezekiel Lol Gatkuoth said both sides are committed to implement the road project linking, Juba, Torit and Nadapal.
"We want to announce to the people of South Sudan that this project is very instrumental in the country, so it will be launched immediately," he said.
Meanwhile, Minister of Roads and Bridges Rebecca Joshua Okwachi appealed to the communities living along the route to cooperate with the company that will implement the project. 'I need your cooperation. Our government is guaranteeing the security of the route," she said.