South Sudan army defection in Wunyiik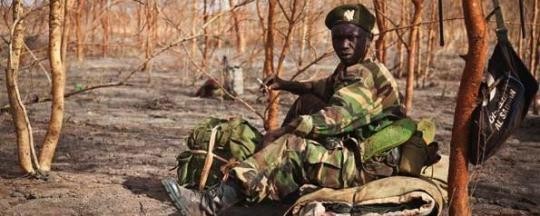 A group of about 40 soldiers have defected from the SPLA Division 3 headquarters at Wunyiik, located in Northern Bahr al Ghazal, according to local sources.
Awet Kiir Awet, the commissioner of Aweil East County, on Thursday confirmed to Radio Tamazuj that one Brigadier Peter Gatbel with his three bodyguards left from Division 3 headquarters on Tuesday but claimed that they posed no threat to anybody in the county.
"One officer among many officers at the military headquarters decided to quarrel with everyone whom he came across after seriously drinking and left to the bush, a distance of more than one hour from the military base," he said.
The commissioner claimed that many Nuer officers remained at Wunyiik, loyal to the government, and had not defected alongside Gatbel.
He further tried to explain that the incident did not amount to a defection but was just the result of one commander drinking heavily and quarreling with others.
"This is not a defection, in fact, these are the behaviors of a drunken person," said Awet, predicting that after he has recovered from his drunkenness he may return to the base.
However, Deputy Governor Chol Ayat confirmed to Radio Tamazuj the defection of the SPLA Brigadier Peter Gatbel.
He said the commander was initially joined by 30 soldiers, while another five later followed, making the number of defectors nearly 40.
The senior official stated that the SPLA defectors are now heading toward Meiram, a town across the border in Sudan.
File photo
Related coverage:
General acknowledges another defection on Jonglei front (28 Apr.)
Governor strongly denies Mapel massacre claims (28 Apr.)
Four SPLA generals among defectors in Wau (28 Apr.)