South Sudan administers over 95,000 Covid-19 vaccines countrywide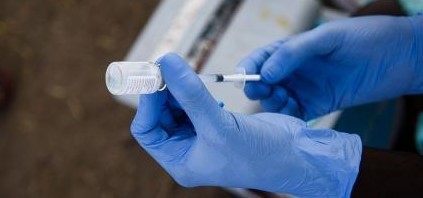 South Sudan's Ministry of Health says it has administered more than 95,000 doses of the AstraZeneca Covid-19 vaccines across the country, with more than half as the first dose and about 25,000-second doses.
The health ministry and the World Health Organisation (WHO) say the country still has a balance of 24,000 doses of AstraZeneca expected to expire this month.
Speaking to reporters during a Covid-19 press briefing on Sunday, Dr. John Rumunu, Director General for Preventive Health Services and COVID-19 Incident Manager at the National Ministry of Health said, "On the current vaccination deployment, our dashboard is indicating 69,110 people who have received their first AstraZeneca dose and 26,872 people received the second dose. In total, we have 95,982 vaccines administered, and out of it about 26.1/% are females."
Dr. Rumunu adds that the general uptake of the vaccines across the country is increasing and that it confirmed eight new Covid-19 cases out of 395 tests performed over the weekend.
For her part, the WHO Covid-19 Incident Manager in South Sudan, Dr. Sacha Bootsman says they are confident that the remaining 24,000 doses of AstraZeneca would finish before its expiry at the end of the month.
"We still have 24,000 doses of AstraZeneca left to be administered before the end of September to be expiring. So, we are confident that we will be able to fully rid ourselves (WHO/MOH) of this batch of AstraZeneca because we still have almost 2 weeks for it to expire," Dr. Bootsman said.
She further noted that the ministry and WHO will delay the administration of the Johnson and Johnson vaccines until early October, while they update the training guidelines and manuals including training health care workers on how to handle the new vaccine.
"As you know this is a single dose vaccine which is different from the AstraZeneca which requires two doses. So, that is why we need to again go through the process of training the health care workers so that they know specific ways on how to store this vaccine, how to handle this vaccine, how to also add the waste management of the empty vials of this vaccine," Dr. Sacha added.
The WHO says it received in the last one week a global decrease of 4 million cases in all the regions. It says there is a general decrease in the number of cases globally due to the uptake of the vaccines.
Globally, there are 225million confirmed cases with 4.6 million deaths recorded according to the World Health Organization.
South Sudan has 11,805 cumulative confirmed cases, 11,195 recoveries, and 121 deaths since April 2020.