South Kordofan officials accused of using cyanide in gold mining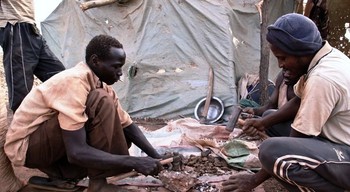 File photo: Gold workers in South Kordofan (Adam Moller)
Government officials in Sudan's South Kordofan State have been using cyanide and mercury in gold mining which pose threats to the area's environment, a top government official said.
Cyanide and mercury are used mostly for extracting gold from ore in the state. The processes are controversial because of the highly toxic nature of the chemicals.
The official, who preferred anonymity, told Radio Tamazuj on Friday that government officials were involved in gold mining and used cyanide and mercury in their business.
He accused Sudan's Mining Company and the State Commission of allowing private companies to use cyanide and mercury in gold mining in Al-Liri and Abu Jubeiha localities.
A source revealed that the state and national government ignore the suffering of citizens of South Kordufan, where they are exposed to cyanide poisoning which has affected many children.
Medical sources reported earlier that there was an increase in the number of affected children in Balula area in Tadamoun Locality.