South Kordofan fighting displaces 1,300 people: UN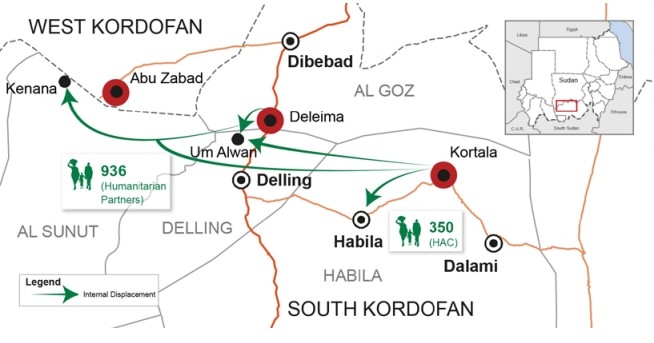 Clashes between the Sudanese army and rebel forces in South Kordofan have displaced about 1,300 people since 12 November, the UN Office for the Coordination of Humanitarian Affairs (OCHA) reported in its latest news bulletin.
Clashes started around the Kortala area of Habila locality on 12 November and spread to other parts of South and West Kordofan, including Deleima in Al Qoz locality and Abu Zabad town (approximately 57 km northwest of Dilling) in West Kordofan.
According to the South Kordofan Humanitarian Aid Commission (HAC), some 350 people from villages around the area of Kortala fled to Habila town. Humanitarian organisations in South Kordofan say an additional 936 people from Kortala and Deleima fled to Um Alwan, Kenana, and Damira located north of Dilling locality, OCHA reports.
However, no assessment teams, including from HAC, were allowed to visit the affected areas where hostilities are taking place. Consequently, OCHA states, up-to-date information about the situation of these newly displaced people remains unconfirmed. No emergency assistance has been provided to these newly displaced people.
No movements have been allowed on the Kadugli – El Obeid highway since fighting started on 12 November. This restriction was lifted by SAF on 15 November. Nonetheless, aid organisations have been advised to suspend movements along this road due to security concerns. As of 17 November, the report reads, these movement restrictions remain in effect for UN staff.
Map: Displacement in Kordofan (OCHA)