Soldiers loyal to Stephen Buay jailed in Mayom freed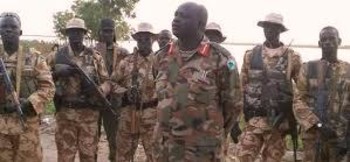 South Sudan military last Tuesday released 72 soldiers loyal to the former commander of its fifth infantry division in Wau.
Gen. Stephen Buay Rolnyang was the deputy commander of the 5th infantry in Wau before he was replaced.
He was later captured together with his soldiers by a unit of Special Forces commanded by Gen. Mathew Puljang in Mayom after fighting and flown to Juba on 31 May after he failed to surrender himself and travel to Juba where he was redeployed.
A top government official who preferred anonymity because he was not authorized to speak with media told Radio Tamazuj that SPLA soldiers loyal to Gen. Stephen Buay have been released except two officers.
"They have been released on 27 June and returned to their respective units, but two officers are still in detention. Capt. Thai Majak who was the head of the army and Moses Both Latjor who was the head of security are still in detention in Mayom," he said.
The official pointed out the former SPLA commander Stephen Buay is still under investigations in the capital Juba. "The general was intercepted by National Security officials when he was talking to the former chief of general staff Paul Malong," he explained.
SPLA spokesman Lul Ruai Koang said he had no official information about the released soldiers.