'Slain Syrians were building my village house'-President Kiir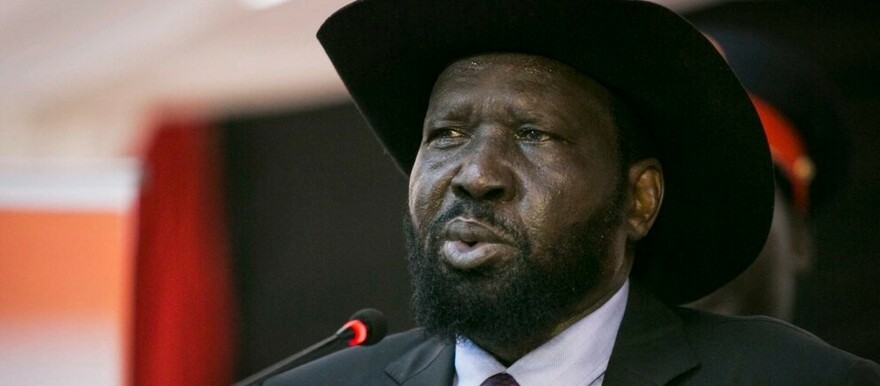 President Slava Kiir (File photo)
President Salva Kiir on Tuesday revealed that the three Syrians who were recently killed in Akon village in Gogrial West County of Warrap State were building his house there.
He was speaking during the swearing-in of SPLM Secretary General Peter Lam Both in Juba.
The killer who was eventually apprehended has been identified as Private Yak Garang Yak of the Tiger Division which protects the president.
"Recently during the Christmas Season, some people were working at my home in Akon because I decided to build a small house there. A soldier went there and asked to work with the company doing the construction," he revealed. "However, in the evening during Christmas, this soldier went to his home, picked up his gun, and told his wife to look after their children in the event he is killed because he was going to kill a person that evening or the next morning."
"The next day in the morning, he went and broke the windows of a vehicle, put the people (Syrians) he was working with at gunpoint, sat them down at the grave of my mother, and shot them dead one by one," the president added.
According to Kiir,  a 15-year-old boy who was running away out of fear was shot dead by the killer too.
"So, he killed four people, the three foreigners, and a local boy. He (the killer) then used the same car whose windows he had broken and drove away to Aweil where he was eventually arrested," he said. "He has now been brought to Juba and was arraigned in court yesterday (Monday) but the hearing was adjourned to today (Tuesday)."
The president said he has not been approving and or signing death sentences and always asked the relatives of the deceased to agree with the family of the killer and take blood compensation.
"This has now brought me shame because people now do not fear to kill. President (Nelson) Mandela used to say that he had all the power people aspire for but asked what he would do with it," Kiir lamented. "I have the same predicament because I have powers but do not know what to do with them and as a result, the Juba Central Prison and other prisons are now overcrowded with people who have committed crimes that qualify them to hang."
He said his next mission is to embark on disarmament.
"I am going to get a tent and go with the army, and camp and surround places where people are armed and disarm them," Kiir vowed. "This is the only solution."