"Since I defeated the virus and fully recovered from it, you can also do it," a COVID-19 survivor says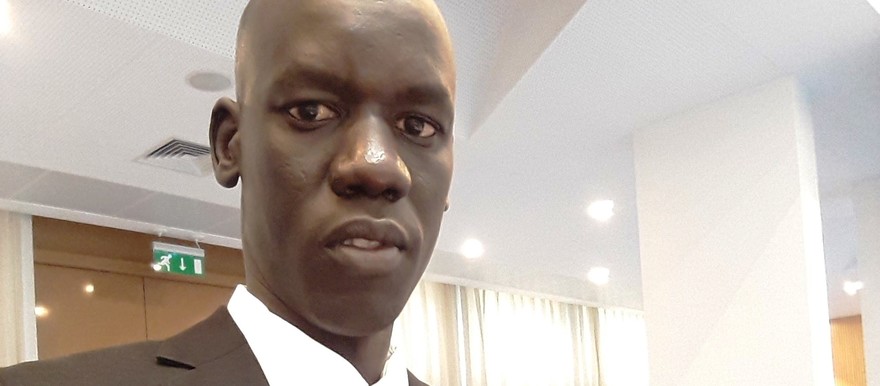 File photo: Dr. Mathew Tut Moses
A South Sudanese medical doctor who recovered from COVID-19 urged the public to pay more support to those struggling with the virus to reduce stigma and the spread.
"At some point I felt neglected by my institution," said Dr. Mathew Tut Moses, a manager for the Public Health Emergency Operations Centre (PHEOC) in the Ministry of Health. "But I consoled myself by saying, 'Whatever I do, am doing it for the nation.'"
Dr. Tut said that he contracted COVID-19 at his work place when the country was reporting its first cases in April. At the time, his work place became busier, with more meetings by technical working groups and other stakeholders from different institutions.
"Many people started coming to our working premises demanding for testing. That uncontrollable movement of people to PHEOC premises and the long hours working around the clock without proper rest poses a lot of risk of contracting the disease to entire teams including myself," Tut explained.
According to the World Health Organization (WHO), people can catch COVID-19 primarily from person to person, through small droplets from the nose or mouth, which are expelled when a person with COVID-19 coughs, sneezes, or speaks.
The medical doctor said he felt so exhausted on the first week of May 2020 and he thought that might be because of work stress. Two days later, Tut said his body started aching, and he had a slight fever and headache. He never thought it could be symptoms of the Coronavirus, instead he thought this could be malaria.
In the evening of the same day, Tut said that he went to the clinic to check for malaria. His test came back positive. He was given anti-malarial medication and took two days break from work to finish his treatment. After completing the malaria treatment, Dr. Tut said his body was still paining, and the fever and headache were not subsiding.
"I felt like something is not adding up," he said.
On May 15, Tut said he experienced a bit of flu-like symptoms and the degree of body weakness was increasing. "As a result, I decided to terminate my going to work," said Tut. "The idea of COVID-19 infection started coming into my mind especially after I was told that somebody whom I usually meet in my office was tested positive for COVID-19."
Coronaviruses are a large family of viruses that cause illness ranging from the common cold to more severe diseases such as Middle East Respiratory Syndrome and Severe Acute Respiratory Syndrome.
Dr. Tut stated that on 16 May 2020 he went for sample collection and immediately isolated himself at home pending his result. And two days later, he start feeling more symptoms including dry cough, an itchy throat, runny nose, severe headache and fever of 38 C, generalized body weakness, loss of appetite, and his chest was hurting as well.
"It was a tug of war to convince my wife of the necessity of leaving the house and looking for a solitary place to isolate myself," said Dr. Tut. "I recall vividly and on 18 May 2020, after I convinced my wife, I relocated myself from home to the hotel where I used one of the rooms as my isolation."
While waiting for the test result, Tut said many ideas started flowing into his mind about whether he was going to infect his pregnant wife, his 2 years old son, his family. He also worried about his colleague at his work place, and if COVID-19 is going to kill him in this tender age, and if so then who will take care of his family.
Tut said he later remembered that instead of worrying himself, he better console his wife and encourage her instead.
"I remember telling her jokingly that COVID-19 does not kill young people of my age, so I will be fine very soon," he said. More than 30 people have died of Covid-19 in South Sudan, according to government records. The WHO says older people are at higher risk of death.
The health official further said he thought of doing self-medication in order to relieve his symptoms while waiting his test results. He ordered some medications like Azithromycin Tabs 500mg, Multivitamins, Vitamin C, Paracetamol 500mg, Aspirin 75mg, Antihistamines 10mg, since there is nobody from case management team who is following his status.
"While some western, traditional or home remedies may provide comfort and alleviate symptoms of mild COVID-19, there are no medicines that have been shown to prevent or cure the disease," according to the WHO's website. But in mid-June, the UK and WHO confirmed positive results from a test of dexamethasone, a corticosteroid, that can be lifesaving for some patients who are critically ill with COVID-19.
Dr. Tut said he was confirmed positive for COVID-19 after the Public Health Laboratory released his lab results on 22 May 2020.
"I didn't panic because I was psychologically prepared for it. I didn't regret either; instead I felt proud of myself because I caught the disease when I was doing my national duty, I consider it part of my contribution toward nation building," said Dr. Mathew Tut. "I remember those who sacrifice their lives during liberation struggle and told myself, I will be a national hero if I die."
The U.S. Centers for Diseases Control (CDC) further said that the main goal of quarantines or isolation is to "keep people safe and avoid further spread of communicable disease to others."
The official said his wife cried hysterically and thought the gloomy days are coming our ways upon hearing the result, and Tut said he consoled her once more and assured her that he will get well very soon.
Tut said that he continued taking medications, doing exercise and consuming a lot of Vitamin C rich fruits to relief the symptoms that lasted for another 5 days while in the self-isolation.
"I felt like a heavy load has been lifted from my head and body." Tut said. "Only slight fever and intermittent headache persisted for some time but later on disappeared."
On 30 May 2020, Dr. Mathew Tut Moses Kol told Radio Tamazuj that he requested the Public Health Laboratory team to collect a sample. Two days later, his result tested negative and he was declared COVID-19 free.
"As a frontline health worker, I vow to myself to continue the fight against COVID-19 with the rest of my selfless colleagues," he said.
Tut said he started immediately to join his colleagues in the fight against COVID-19 through virtual meetings from his isolation and participating on National Steering Committee meetings online.
The health worker ended his experiences by giving thanks to his family, friends, and well-wisher who called him during periods of illness and wishing him quick recovery. "God has listened to your prayers and he set me free of COVID-19."
"To those who are stigmatizing the COVID-19 patients, COVID-19 is not a death sentence," said Dr. Tut. "People diagnosed with it should not be stigmatized rather should be supported to fight the disease courageously."