Several Melut pupils miss out on school over floods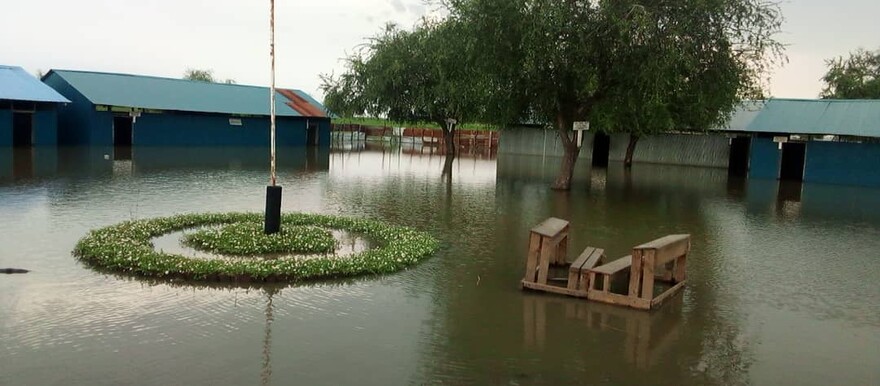 A flooded school in Melut County, Upper Nile State. [Photo: Radio Tamazuj]
Dozens of pupils in parts of Melut County of Upper Nile State are missing out on school as the level of the rising floodwaters rendered the educational institutions there inaccessible.
Several pupils told Radio Tamazuj that they worry that the 2021-2022 academic year could go to waste if no one intervenes.

One grade 8 pupil, Anger Mijok, said: "It is over two weeks now without going to school since we relocated to the New Site area due to the floods. Our school at Dentima IDP Camp is completely submerged."
The 19-year-old female pupil called on well-wishers to come to their aid.
"As a candidate, I should have been preparing for my national examinations by now. We are worried that we are just home. We need help so that we will be able to access education somewhere else," she said.
Another pupil, Kuol Lual, 15, also expressed anxiety that they may miss out on school this year and called for urgent intervention.
For his part, Arop Kuol, a representative of the Dentima displaced community, claimed over 1,700 pupils have not attended classes since last month due to the floods, and he called on the government to intervene.
"We have been engaging the local community at our new settlement to grant our children space for an evening class at their school. The talks are still ongoing. So, we appeal to the government and aid agencies to help us in this area," he said.
Last week, Deng Joh, the Melut County commissioner, told Radio Tamazuj that several areas in the southern part of the county are being evacuated due to the floods and called for urgent humanitarian intervention.
He said the authorities on the ground are overstretched and cannot meet the growing humanitarian needs of flood victims.