Seven poachers arrested for killing wild animals in Jonglei State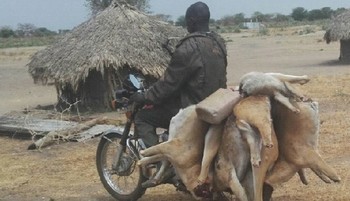 File photo: A South Sudanese man carrying two antelopes on his motorcycle in Kapoeta (Radio Tamazuj)
Wildlife authorities in Jonglei state on Tuesday night arrested seven poachers and a huge portion of bush meat was seized from them on the outskirts of Bor town in Jonglei State.
Zachariah Atem Manyok, the state director for wildlife conservation and tourism, told reporters today that their forces managed to arrest the seven poachers while carrying the bush meat on a pickup car and two motorcycles.
The wildlife officer pointed out that two policemen were among the arrested poachers. "Our personnel went out and apprehended the criminals," he said.
He pointed out the confiscated bush meat will be burned and that the seven poachers will be taken to court.
Ngong Anyang, one of the arrested police officers, said he killed wild animals to feed his family. He noted that he is not aware that it is illegal to kill wild animals.
Poaching is a common practice in South Sudan. But conservationists say that, since the conflict in December 2013, there has been an increase in the killing and trafficking of wildlife by government and anti-government forces as well as armed civilians.