Senior officials split from Kiir's SPLM faction, form new political party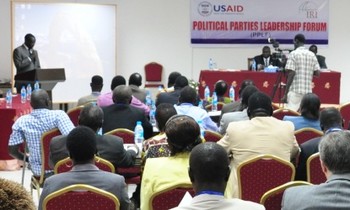 File photo: A political parties leadership forum to endorse the parties draft bill, October 26, 2011.
Senior officials have split from the Sudan's Peoples Liberation Movement (SPLM) faction allied to President Salva Kiir and formed a new political party.
The Sudan People's Liberation Movement (SPLM), the governing party of South Sudan, fractured in December 2013, leading to the ongoing civil war that has killed thousands and forced a large number of people to seek refugees in neighbouring countries.
The new political entity named as the Republican Party of South Sudan was officially launched on Thursday after its founding members endorsed the former governor of the defunct Warrap state, Lewis Anei Madut as the chairman. The new party's deputy chairman and secretary general were also elected at the same meeting of the founding members.
Speaking at the official launch of the party, Lewis Anei Madut said the Republican Party of South Sudan is a non-violent political organization formed after being inspired by the call to unite the country along a political party that aspires for equal rights of all the people of South Sudan.
"We are a non-violent political party that has come to make peaceful changes and transformation," he said. "This country needs somebody with direction, somebody who can lead people with courage and a program that can lead this country," he added.
In a separate statement to SSBC on Friday, Anei said it was difficult for him to progress within the hierarchical structure of the SPLM party, citing too much hierarchy and stagnation.
"I realized that we cannot change those things from within. There are too much hierarchy and too much stagnation, so we cannot make it from within. Therefore, we have to create a platform through which we can solve those situations," he said.
Anthony Agiem Akot, an elder and one of the founding members of the new party, said the newly formed Republican Party aims at rescuing the country from falling apart.
"We are a new party which wants to change the image of the country democratically," he said. "The nomination of the founding members was concluded," he added.
Anthony pointed out that the new party will work hard with other political parties to move the country forward. He emphasized the need for the people of South Sudan to know each other so that they can end divisions along tribal lines.
Philip Manyok Kuol, who is the new party's lawyer, said the Republican Party of South Sudan will promote democracy and development. He further said the party will also fight against corruption and tribalism.
The new party members are largely from the SPLM faction allied to President Kiir.