Senior chief shot dead in Lasu, Yei River state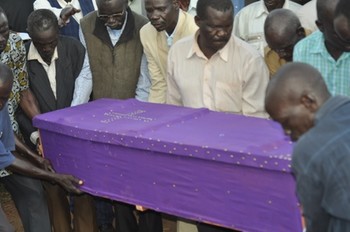 Senior Chief Simon Lasuba Jatu of the Lasu Payam in Yei River State was shot dead by unknown gunmen on Saturday.
Simon, 39, was the executive chief for Asole Boma of Lasu Payam. He was killed in Agonya Kiri village East of Lasu Payam after leaving Mitika market.
Lasu Payam is located west of Yei town at the South Sudan's border with the Democratic Republic of Congo. The area is largely controlled by the SPLA-IO faction under rebel leader Riek Machar.
Nobody claimed responsibility for the killing of the traditional chief so far. But the local residents called on the local authorities in the area to investigate the incident.
Wayi Godwil Edward, a spokesman for the rebel-appointed governor Frank Matata has confirmed the killing of the community leader.
Wayi claimed three suspects have been arrested and that they are now being investigated in the area.
"We have learned with broken hearts the sudden dead of Simon Lasuba who was the executive chief of Asole Boma in Lasu Payam," Wayi said in a statement extended to Radio Tamazuj.