Secondary leaving exams begin in South Sudan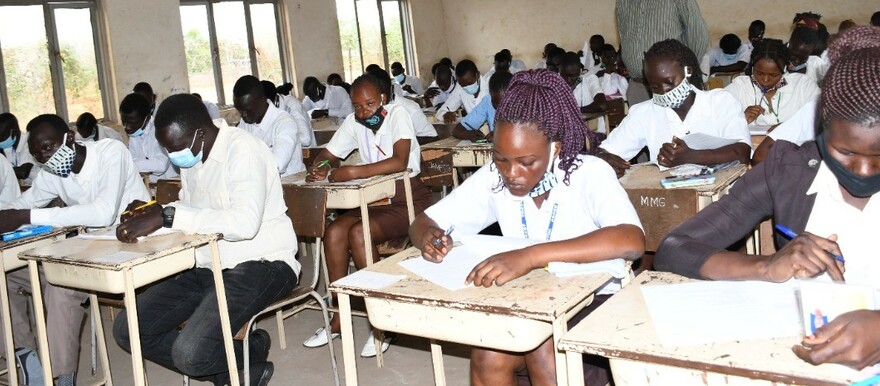 Candidates at Juba Technical Secondary school sitting for South Sudan secondary examinations on 20 April 2022 (Radio Tamazuj)
A total of 32,167 secondary school students have today started to sit South Sudanese secondary examinations countrywide. The examinations are administered in 340 centres.
The examinations were launched by Vice President for Service Cluster Hussein Abdelbaggi Akol. While at Buluk Technical School in Juba, the Vice President rang the bell to signal the release of examinations countrywide.
Speaking when he launched the examinations this morning, Vice President Abdelbaqi warned the candidates against examination malpractices.
"I would like to encourage the candidates to sit for all the examinations and work hard in faith and integrity. I would like to appeal to the candidates for South Sudan Secondary Examinations across the country to avoid examination malpractice," Abdelbaqi said.
For his part, Simon Nyok, the Secretary-General for Examinations Council, said examination papers had been delivered to all the 10 states and the three administrative areas.
"We are glad that we have reached this day and the students are going to start the examinations. We had registered a total of 32,167 candidates nationwide," he said.
"And nationwide we have 340 secondary schools that have presented candidates for this year's exams. So far, all the exams have reached all the stations across the 10 states and three administrative areas," he added.
Nyok pointed out that the Ministry of General Education has put in place enough measures to ensure the integrity of the examinations is not compromised.