Secondary examination problems in WBeG & Upper Nile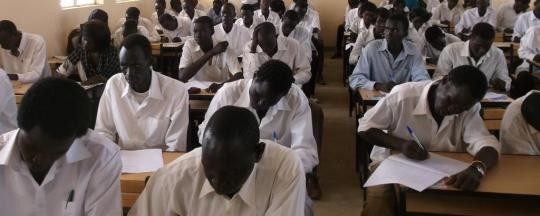 Adil Atanasio Sarur, the Western Bahr el-Ghazal state minister of education, acknowledged that his state has suffered technical problems with South Sudan's first secondary school examinations, in an interview with Radio Tamazuj.
Atanasio claimed that pupils complained of a delay in the delivery of exam papers to certain schools, forcing an examination administration committee to resort to photo copying official papers received by others.
They also were required to shut pupils in classrooms in order to ensure that no malpractice could take place whilst this process was delayed.
"There were two schools whose papers got delayed and we closed the students inside these two schools. We didn't allow them to get out or to have a mobile phone and that was due to technical errors as I mentioned before. There was a delay for an hour but no student was allowed to enter or come out from the centre," he claimed.
However, the minister added that the only alternative to this was postponing exams for those pupils until next year.
"There was no other option rather than this, unless we suspended them for next year or be given supplementary exams, which will not happen for sure. I think these are the technical mistakes of the first examinations in Geography subject and we solved it in the way that I have mentioned and that was in one subject only," added Atansio.
Meanwhile, the director of secondary education in the northern counties of Upper Nile state, Amor Achwein, has reported that his counties faced also considerable logistical challenges but in the subjects of mathematics and history as well as geography.
Language issues meant that they had translated the history examination paper from English to Arabic on the classroom blackboard in many schools as there were no Arabic copies for Arabic-pattern pupils at Jelhaksecondary school.
Earlier this year, South Sudan announced it was going to establish its own certificate system of assessment for secondary school pupils after an agreement to continue using Sudan's until late 2014 fell through.
Photo: Students sitting for the secondary scchool exam in Aweil, Northern Bahr al Ghazal, 22 April 2013 (Radio Tamazuj)
Related:
South Sudan secondary exams begin despite challenges (23 April 2013)
South Sudan plans own Secondary Leaving Certificate: failed to meet Sudan's deadline (31 January 2013)
RSS not prepared for Secondary School Certificate – Sudan Undersecretary for Education (29 January 2013)