Sanctions only way to end South Sudan conflict, says youth body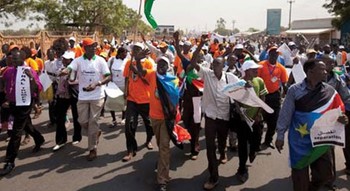 A South Sudanese youth body said on Thursday the United States should keep sanctions on South Sudan, rejecting demonstrators' calls upon the Trump administration to reconsider its decision.
Hundreds of protesters on Tuesday massed outside the US embassy and UN headquarters in Juba chanting slogans against an arms embargo imposed by Washington, before some attacked a foreign journalist present.
The International Youth for Africa (IYA), in a statement extended to Radio Tamazuj, said that sanctions remain the only way to keep South Sudan parties at the negotiating table to make peace in the country.
IYA's executive director, Ter Manyang Gatwech, called on South Sudanese youth to stage demonstrations to demand peace instead of rejecting the arms embargo imposed by the United States to put pressure on South Sudan leaders to bring about peace in the country.
"I urge the youth to focus on developmental programs rather than unwanted things … I call on all the young people to think big for their future and the future of South Sudan," he said.
Ter condemned the attack on the foreign journalist during demonstrations against the arms embargo in Juba.
He urged South Sudan's warring parties at the peace talks in Addis Ababa to start negotiating seriously.