GIDEL, Nuba Mts. -
26 Oct 2012
SAF airstrike victim recounts his painful experience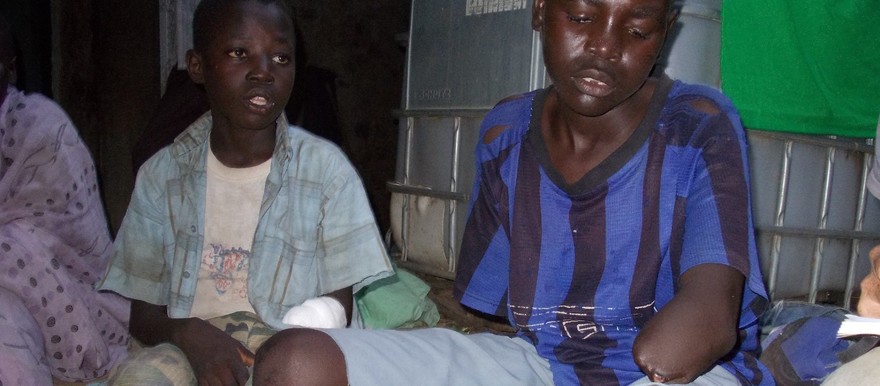 Daniel Omer Kuku, a boy from Dar Angola area in South Kordofan, lost his arms in an Antonov airstrike on the area. He is one of the many victims of the Sudan Armed Forces (SAF) air campaign in the Nuba Mountains, rebel-held territory in the south-central border state.
"I was grazing our cows in the bush when the SAF Antonov warplane dropped a bomb near me, and the materials from the exploded bomb cut my arm," he said. The bomb fell near a some houses killing livestock but sparing the villagers. Only Daniel was hit.
In an interview with Radio Tamazuj, the bomb victim explained that he was helped by a soldier named Boutros from Tira who quickly carried him home, after which he was rushed to the Gidel hospital for treatment. "On arrival to the hospital my arm was cut off," he said.
"The boy explained that now he has spent eight months in the hospital receiving treatment." Dr. Tom who operated me advised me not to go home but to remain here receiving treatments." Daniel added that he was told that he will be taken to Kampala to be given an artificial arm so that he can resume his studies at school.
"If I am given the chance of an artificial arm, I want to study and become a doctor or a teacher," says Daniel.
The young boy looked at himself as somebody who cannot do anything except to embrace education as the only option after losing his arm. "It is a big loss," he said of his arms. "May God be upon those who come and bomb the people of Nuba Mountains with their Antonovs."
Gidel Hospital is run by the Catholic Church and staffed by one American doctor who volunteers there for the last few years. It is the only permanent hospital in the SPLA-North territory.
Grace Adio, a nurse from the hospital, said that the hospital often receives victims of the war as well as victims of accidents. The nurse added that the hospital receives patients from all over Nuba Mountains. She added that some of the patients take days on the way to reach the hospital. She also noted that the hospital does not have an ambulance.
"Daniel Omer was one of the lucky ones in getting medical help – but there are many victims of airstrikes who do not get access to the hospital due to long distance and poor transport," she pointed out.