S. Kordofan: 2 killed, 4 injured in attack on traders' convoy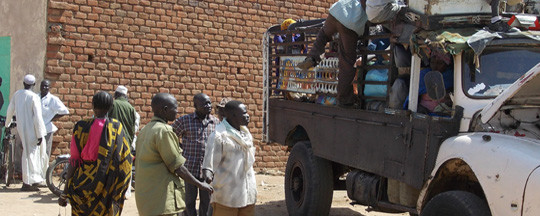 At least 2 traders were killed and 4 others injured as a convoy was hijacked in the Sudanese state of South Kordofan on their way to South Sudan's Unity state.
Four trucks were stolen during the attack and another 4 were destroyed as the traders were attacked by, what is believed to be, elements of the Sudanese police forces in the area of al-Dabab. An unknown number of police officers were allegedly also killed.
Ali al-Busairi, a Misseriya tribal leader, confirmed the incident yesterday and acknowledged that the clash broke out when a loaded commercial convoy travelling from the Al-Dabab area towards South Sudan were fired upon by organized forces, resulting in the deaths and injuries.
Al-Busairi attributed the reason for the attack to the refusal of the traders to obey the orders of local authorities to mobilise youth into the military and affiliated militias in order to fight rebels, the Sudan Revolutionary Front.
"In fact, a commercial convoy comprised of 10 trucks loaded with food commodities from Al-Dabab area (travelling) to Mayom County of Unity state was attacked by the National Congress (Party's) government place an ambush to the convoy at Nyama area and after that they opened fire at the convoy and killed 2 civilians as well as wounding 4 others. 4 other trucks loaded with food commodities were confiscated and taken back to the area military camp. All these people were innocent civilians," al-Busairi noted.
Radio Tamazuj was unable to reach independent sources for their comment on the incident.