Rwandan battalion of regional protection force arrives in Juba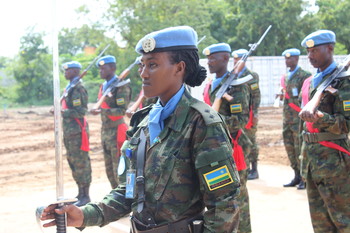 File photo: First batch of the Rwandan battalion in Juba. (Radio Tamazuj)
The first battle of the Rwandan battalion which is part of the regional protection force (RPF) of the UN Mission in South Sudan (UNMISS) arrived in Juba over the weekend, the UN mission said Tuesday.
The head of the UN mission, David Shearer, said in a press conference in Juba today that 150 Rwandan soldiers have already arrived in the country and will join up with 100 Bangladeshi engineers.
In August 2016, the United Nations Security Council following request by the East African regional bloc IGAD approved the deployment of 4,000-strong regional protection force to provide security in Juba.
South Sudan's government agreed after first rejecting the regional protection force as a breach of the country's national sovereignty.
The UN mission said that the additional force would beef up the existing 12,000 UNMISS troops in the world's youngest nation.
The top UN official further said the 4,000 peacekeepers of the RPF, commanded by Mupenzi, will be based in the capital Juba to bolster the mission's capacity to boost the security of civilians.
He pointed out the remaining Rwandan peacekeepers will be arriving in the next few weeks." And the arrival of Ethiopian battalion is imminent," he said.
Shearer noted that the RPF will operate if necessary in the surrounding areas as per the mandate authorized by the UN Security Council.
Shearer indicated that the RFP will cooperate with the South Sudanese military and police to protect the airport. "Obsoletely no designs or plans of any kind to take control of the airport," he said.